This post may contain affiliate links. Read the full disclosure here.
This herby garlicky cowboy butter recipe provides a delicious finishing touch to steaks (or fish) right off the grill. Make a batch and keep some in your freezer for when you need to quickly elevate your dinner.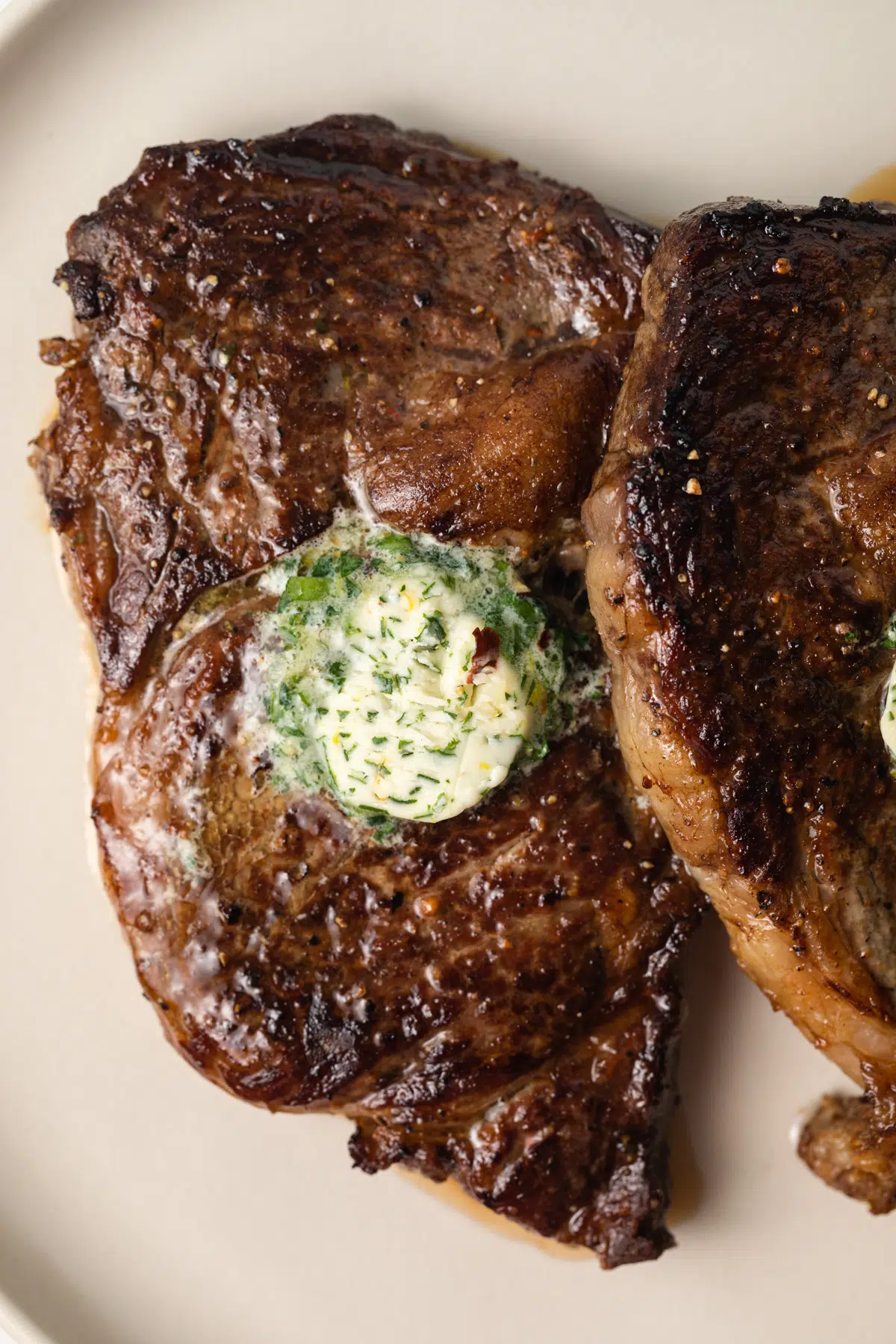 Is there anything better than steaks fresh off the grill? Yes. There is. Steaks fresh off the grill that are served with a generous slab of this garlic and herb cowboy butter.
I haven't done extensive research into this, but one can assume the history of this butter from its name. Images of cowboys sitting around a fire at night, cooking in skillets or on grates places over an open fire set against a deep starry night. Sounds kind of magical, doesn't it?
I can't offer you cowboys or horses or even starry nights, but if you make a batch of this deliciously creamy and garlicky butter, I can offer you a taste sensation that will transport you to a Western ranch in your imagination. Steaks, corn on the cob and fresh bread – yum!
The best thing about this cowboy butter recipe is that it is super versatile and will enhance the flavor of any of those items, among others. It is a compound butter, which means a bunch of ingredients are mixed together with the butter. And then when put on hot proteins it melts into a deliciously fresh and flavorful sauce. Just like that!
The garlic and herb butter will accentuate and add depth to any simple grilled protein you might be serving. Steaks, for sure – the rich flavor of steak is amplified by the deliciously flavored butter sauce coating the crispy charred exterior of the steak.
This compound butter is also delicious on grilled seafood like salmon, swordfish or shrimp.
Don't rule out using it on vegetables either. You might want to throw a little bit on top of steamed green beans (if you are doing that try substituting dill for the parsley in the recipe) or spinach, or roll it on corn on the cob.
And finally, the most obvious use of this garlic butter – who doesn't love a delicious piece of garlic bread. Slather this butter on a loaf of french or italian bread (sliced down the middle horizontally) and pop it under the broiler until toasted and golden brown.
So pull up your cowboy boots and get down to business – make yourself a batch or two of this garlic butter. You'll be so glad you did.
If you love this Cowboy Butter and are interested in trying other buttery sauces, you can't go wrong with my sage butter sauce over tortellini, my lemon butter sauce on pasta with vegetables, or my beurre blanc sauce over chicken or seafood.
Ingredients
These simple and fresh ingredients combine to make butter even better!
Salted butter – Yes, salted. I always recommend a stick of unsalted butter in baking but salted, and make sure it is softened butter, makes a difference here.
Fresh parsley – Finely chopped.
Red pepper flakes – For a little heat. These can be optional.
Ground black pepper – Freshly ground.
Garlic – Fresh garlic, finely minced
Lemon – Zested and halved
---
How to Make Cowboy Butter
This is another one of my mix and make recipes. This compound butter recipe comes together in just under 10 minutes, though it will require a bit of time to chill in the fridge.
In a large mixing bowl, beat the butter with an electric mixer until light and fluffy, about 3 minutes.
Add the parsley, red pepper flakes, black pepper, garlic, lemon zest, and the juice of half the lemon and mix until fully combined.
Turn out the mixture onto a piece of plastic wrap. Use a spatula, spread out the mixture into a log shape and twist the ends like a piece of candy.
Refrigerate the log of butter for at least 2 hours to allow the flavors to come together.
Substitutions
Herbs – Parsley is preferable here but use any combination of fresh herbs you have on hand.
---
Variations
The amount of spice in this compound butter can be modified by changing up how much of the red pepper flakes you use – more will obviously mean spicier.
If you don't have fresh garlic on hand, you can make a variation of this cowboy butter sauce recipe that works wonderfully as a butter for steak, chicken and seafood (though admittedly I haven't yet tried it on french bread and don't know that I would) using finely minced shallots in place of the garlic. Add some tarragon or other herbs for a sophisticated shallot herb butter.
Storage
Store this in the fridge for up to a week. I like to slice the log of butter once it is firm and freeze individual pucks so that I can pull them out when I am making steaks. Freeze them first in a flat layer on a piece of parchment paper or plastic wrap, then when frozen you can put them all in the same container. Pull as many as you need out, let them come to room temperature and use normally. This butter can stay frozen for up to 3 months.
---
Tips
Make sure the butter is not too soft when you mix it up with the mixer – it won't fluff as well and will be hard to for you to roll the butter into a log if the stick of butter is too softened.
It really is true, butter makes everything better. Try these sauces and judge for yourself.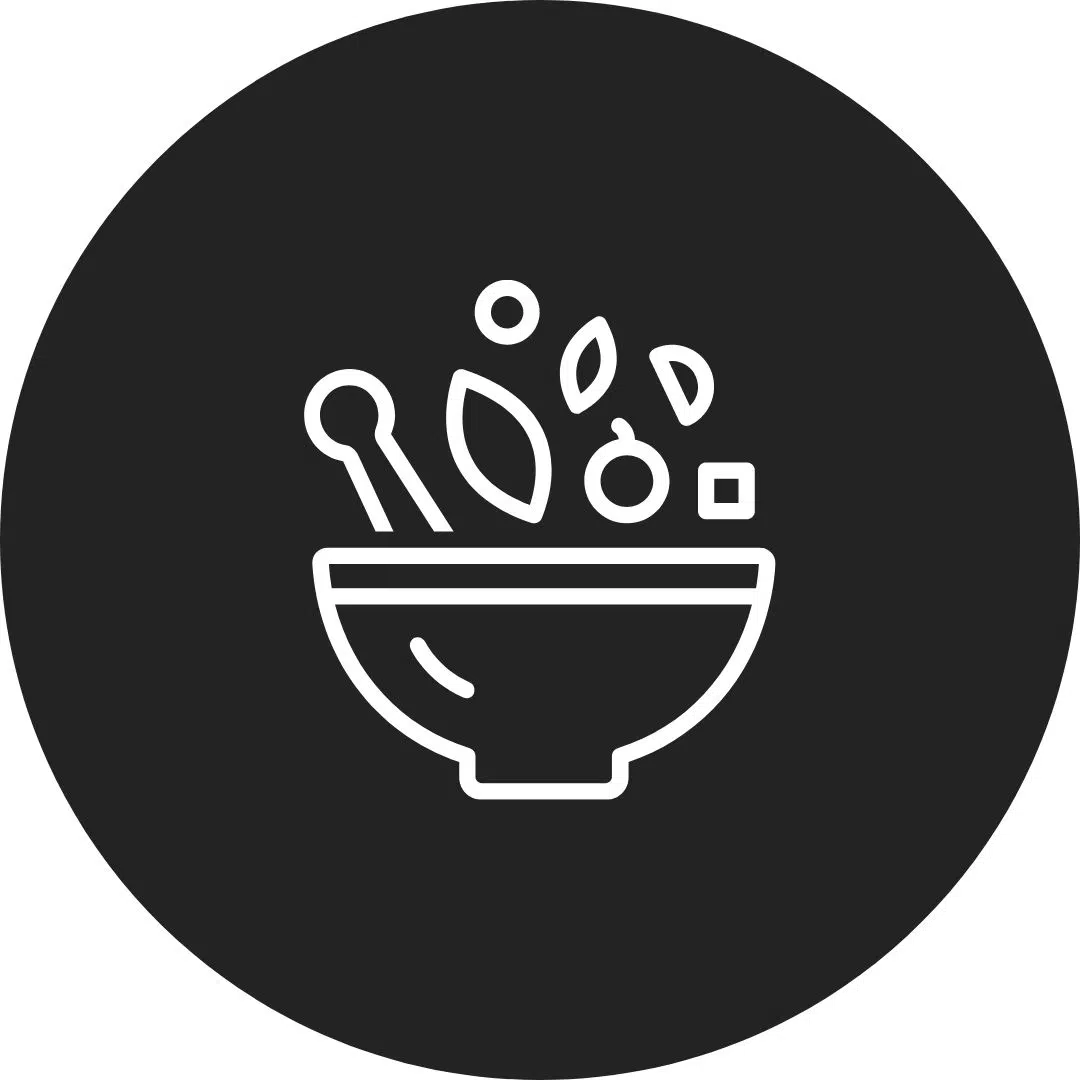 Printable Recipe