This post may contain affiliate links. Read the full disclosure here.
Beurre Blanc is a velvety smooth, rich and tangy sauce that instantly turns a simple piece of grilled fish or chicken into a deliciously elegant meal.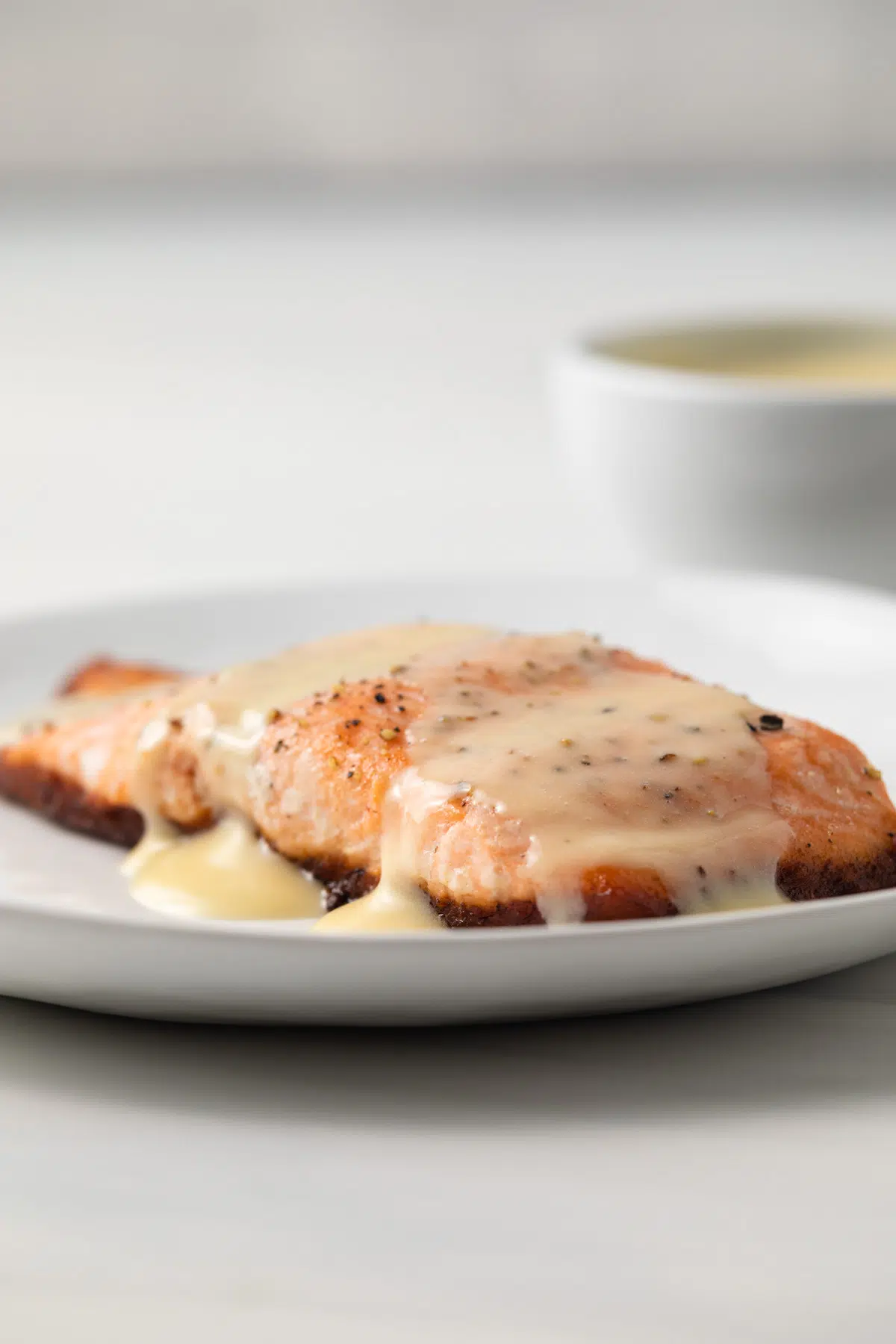 French cooking can be intimidating – believe me, I know. When I think of recipes for French sauces, I think of Julia Childs and her encyclopedia of French cooking. I think of culinary school, chefs coats and whisks.
Good news for you – this is not one of those sauces. While it does require a whisk, and relies on traditional french ingredients – all you need is about 20 minutes to make this delicious sauce. Home cooks unite – no culinary degree needed here!
But the best part of this sauce is that it tastes as if you actually did learn to make it during your course work at Le Corden Bleu. Don't get me wrong – I love sauces like my homemade chipotle sauce or my fish taco sauce, but sometimes I have a hankering for something a little more sophisticated.
This sauce is similar to a bearnaise sauce, but without the eggs. I take a bit of license here, though – and rather than have you whisk until your wrist and elbow are worn out to emulsify the sauce, we add a little heavy cream to it. The original French version doesn't include cream – but it does the trick and makes the sauce rich and creamy without any arm injury! I won't tell anyone if you don't.
This sauce is so yummy you might find yourself wanting to eat it with a spoon. It's really delicious over a piece of grilled salmon, cooked perfectly with a bit of olive oil and lemon. It also is great on grilled or sauteed shrimp as well.
I was once served a coconut shrimp appetizer that had a "vanilla nage" – which was really a beurre blanc sauce with the seeds of a vanilla bean in it. It was unbelievably good. I've experimented a bit – it's better with the vanilla bean seeds, but it's still pretty good with vanilla extract. Try drizzling it over coconut shrimp!
If you have store bought crab ravioli, you can use this as a sauce for it, and have a perfectly elegant dinner in minutes.
This white butter sauce also nicely compliments a piece of grilled chicken by my favorite way to use it is over chicken milanese served on a salad of arugula and shaved fennel. It's one of my go to dishes.
Chicken milanese is a thinly pounded chicken breast dredged in egg, dipped in breadcrumbs and then pan fried. If you drizzle this beurre blanc sauce over the chicken, the salad doesn't need any additional dressing. It's an easy weeknight dinner you will find yourself making over and over.
This beurre blanc sauce recipe makes a delicious and versatile sauce that will enhance any number of dishes you serve. Once you give it a try, head over to make my dijon mustard sauce. It's very similar.
Also, my creamy leek sauce and white wine sauce are other great sauces to serve with seafood!
Common Questions about Beurre Blanc
Why did my beurre blanc split?
If made correctly, the sauce will be thick and creamy with a velvety texture. If the sauce is broken and looks like melted butter, you can use an immersion blender to emulsify the sauce.
My beurre blanc looks like melted butter, what happed?
Either the butter wasn't cold enough, you added the butter too quickly, or you didn't whisk fast enough. You can place the beurre blanc in the refrigerator for a few minutes to cool it down then whisk it vigorously to emulsify.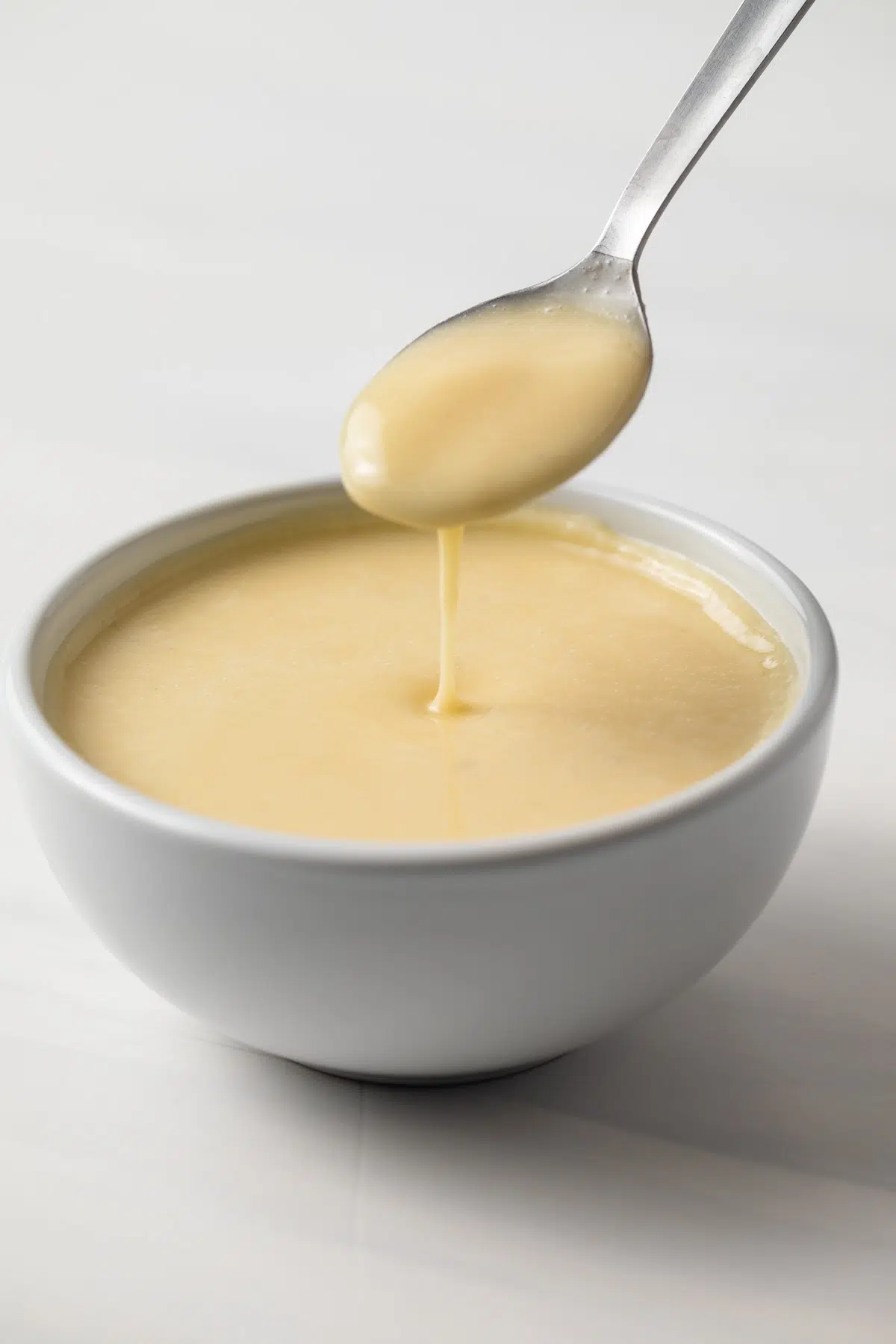 Beurre blanc is made, as many French sauces are, with butter, cream, white wine and shallots.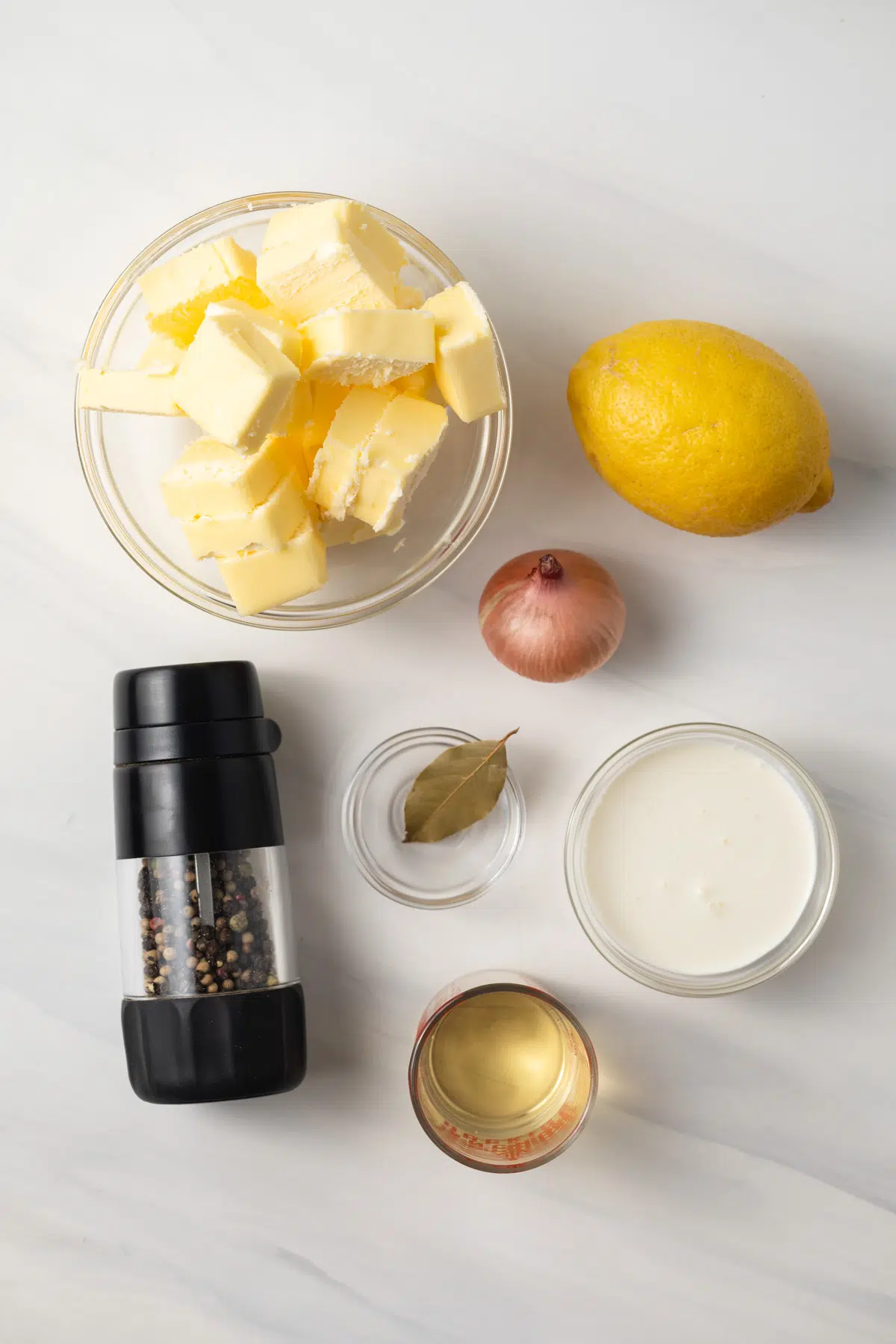 How to Make Beurre Blanc Sauce
This sauce only takes about 10 minutes to come together. It will be much easier if you use cold butter. Either set the bowl with the butter on top of a larger bowl filled with ice, or keep the butter in the fridge, pulling out a few pieces at a time.
Be sure to check out the full recipe and ingredient list below
Add the shallot, bay leaf, freshly ground black pepper, lemon juice, and wine to a saucepan. Bring to a boil, then reduce heat to medium and continue simmering until only 2 tablespoons of liquid remain.
Add in the heavy cream and bring to a simmer; simmer until the cream has reduced by half.
Reduce heat to low, and rapidly whisk in the butter pieces, one at a time, until each piece of butter melts into the cream and thickened.
Strain through a fine mesh sieve and season with salt. Serve immediately.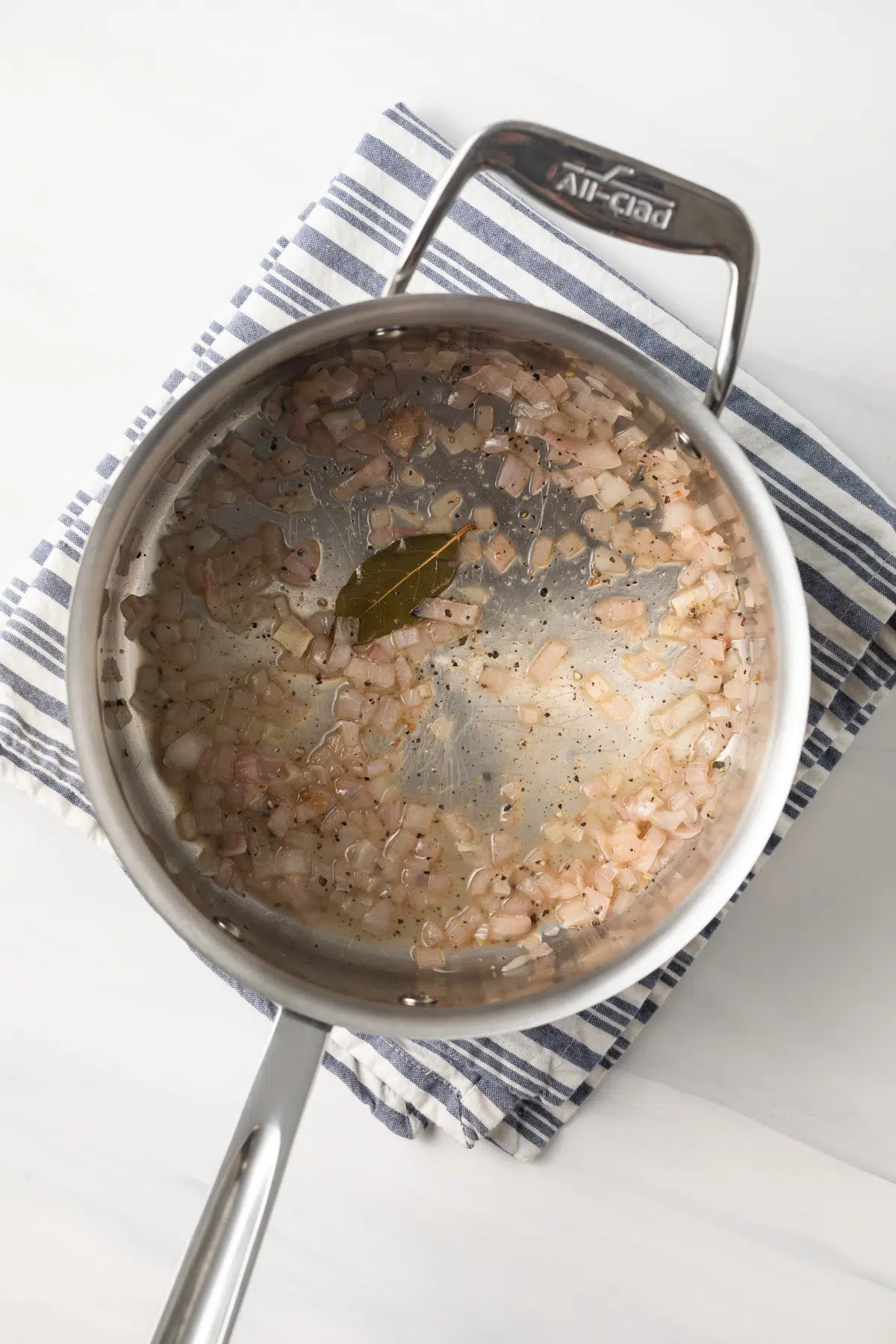 Heavy Cream – you can use whipping cream if you don't have heavy cream.
There are a number of beurre blanc variations you can try:
Spicy – add cayenne pepper to the sauce
Sweet – add a bit of vanilla extract for a sauce that goes well with coconut shrimp or other sweet dishes.
Herby – this sauce works so well with fresh tarragon, and is delicious when spooned over chicken.
Beurre Rouge – Using red wine instead of white wine will create a beautiful beurre rouge sauce.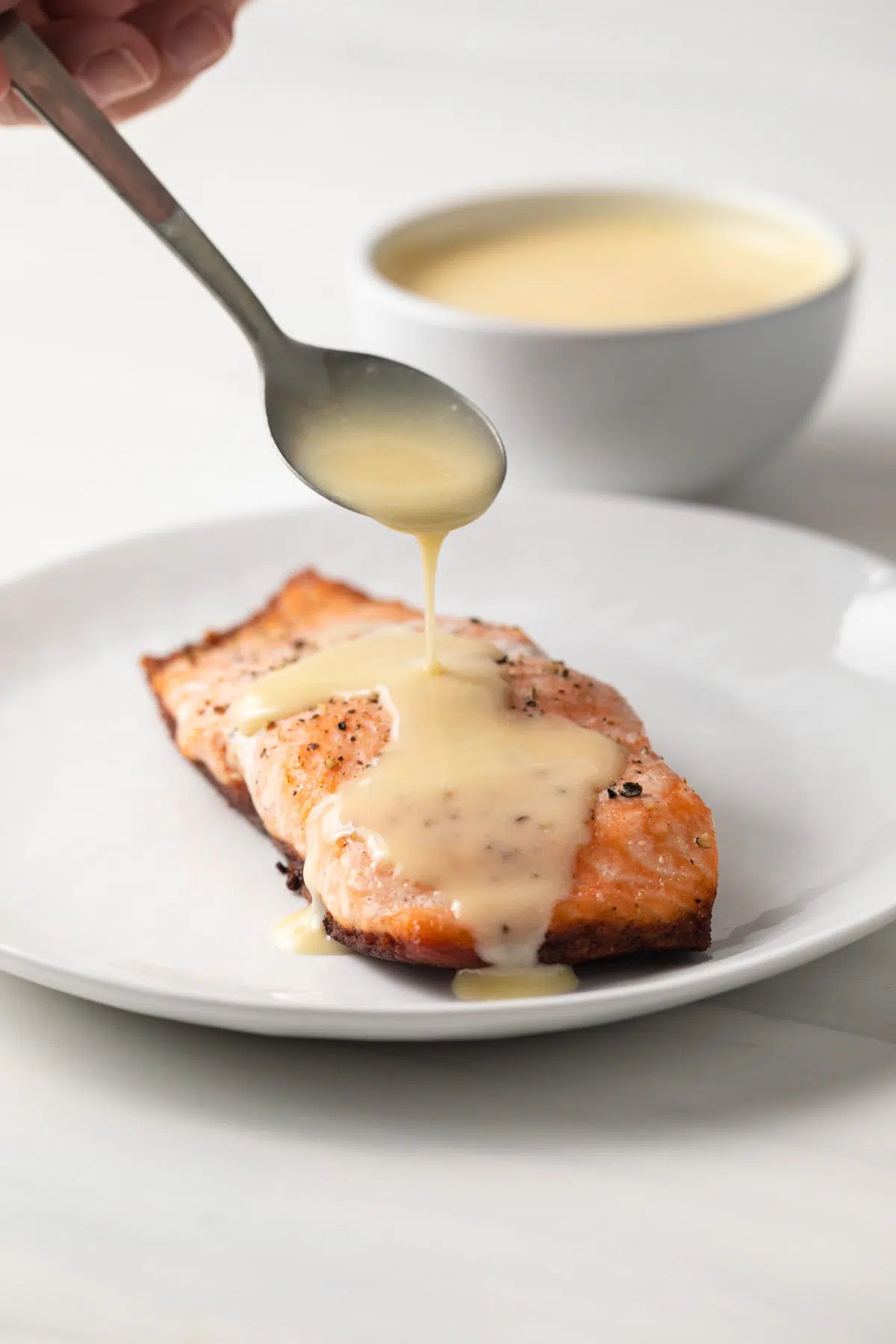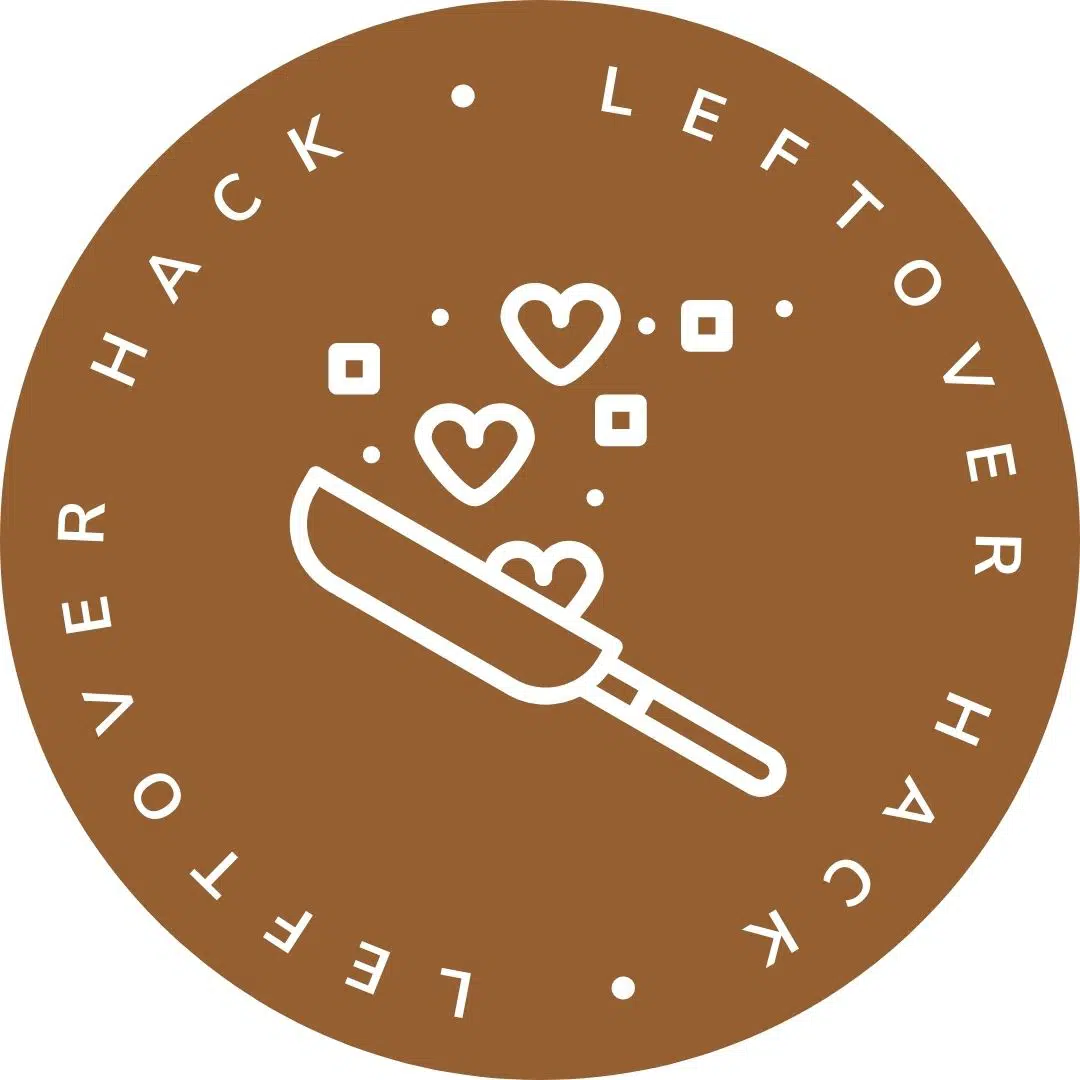 Storage
This sauce needs to be used the day it's made, it can't be made in advance as it won't hold up. The sauce can be kept warm over low heat, whisking occasionally.
.
Make sure the butter is nice and cold. I cut it up into pieces, keep it in the fridge and pull them out a few at a time to mix into the sauce.
Other delicious sauces you need to try: