This post may contain affiliate links. Read the full disclosure here.
This eggplant tomato sauce is deliciously hearty and a great vegetarian option. Serve it over your favorite pasta for a satisfying main dish that's so comforting.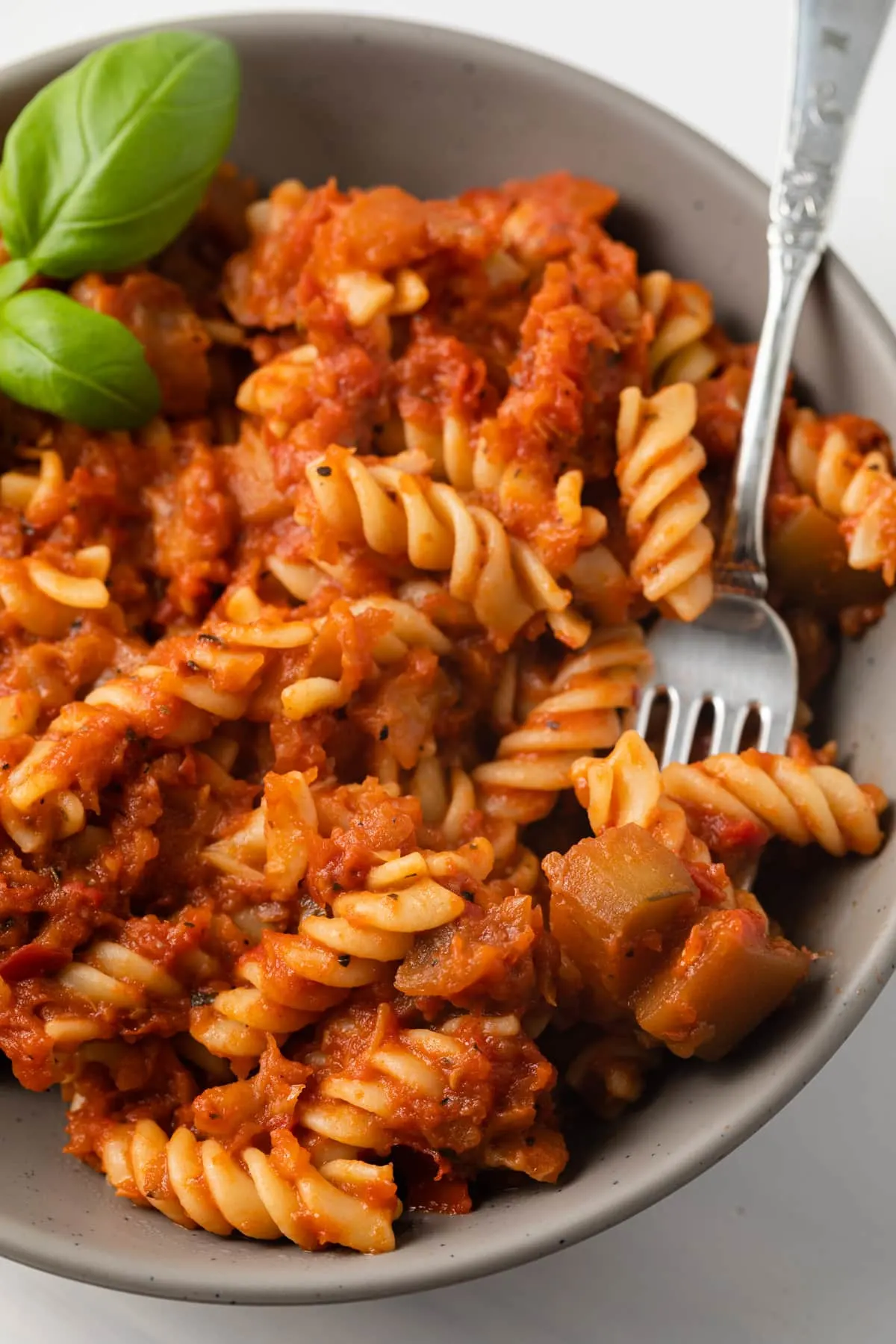 Eggplant is flavorful and meaty and adds just a little something special to a weeknight marinara sauce.
This eggplant tomato sauce may sound intimidating, but it is easy to prepare and will taste like it took you hours. You don't need to salt and drain the eggplant slices. Nor do you need to roast the eggplant. All you need is 15 minutes of prep time to peel and dice the eggplant, a large skillet, and standard tomato sauce ingredients.
Our eggplant with tomato sauce recipe is delicious over pasta as a main course, or serve in smaller portions as a side dish to accompany a simple main like grilled chicken or roasted pork.
If you are craving comfort food recipes these days, try my creamy pumpkin sauce, bolognese sauce, easy spaghetti sauce, my creamy and decadent pink sauce, or my fun pizza sauce for a make-your-own pizza night.
Ingredients
Eggplant tomato sauce is, with the exception of the eggplants, a standard pantry sauce. You'll likely have all the other ingredients on hand already.
Eggplant: Peeled and diced, the eggplant will become soft and bursting with flavor when sauteed.
Extra Virgin Olive Oil: For sauces, always use the best quality olive oil you can find.
Garlic: Tomato sauce without the aromatic addition of garlic, no thanks?
Crushed red pepper flakes: For a little heat.
Tomatoes: This recipe calls for a can of crushed tomatoes. You can also used plum tomatoes and crush them yourself with a fork or your hands.
Basil: I use dried basil here for a little extra flavor.
Salt and Pepper: To taste.
How to Make Eggplant Tomato Sauce
Eggplant tomato sauce is an easy, standard tomato sauce to prepare. Just saute peeled and diced eggplant and add the rest of the ingredients. You'll end up with a herby, rich, and flavorful sauce that tastes like you spent hours at the stove.
Saute the ingredients. Peel and cube the eggplant into ½ inch pieces. Heat the oil over medium low heat and saute the garlic until fragrant before adding the eggplant. Cook until soft, for about 5 minutes. Add the tomatoes, basil and salt and pepper.
Simmer. Simmer for about 15 – 20 minutes, uncovered.
Serve. You can enjoy the sauce as-is served over pasta, or blend with an immersion blender for a smoother texture, with all the flavor, if you prefer.
Substitutions
If you have fresh basil, you can chop it up and use that instead. Remember though, dried herbs are more concentrated, so you'll need a little more. A good ratio to start with is 1 teaspoon of dried herbs = 1 tablespoon fresh herbs.
I used crushed tomatoes in this recipe. You can also use a 28 ounce can of plum or whole tomatoes and crush them yourself. Or even diced or pureed tomatoes. It will give the sauce a slightly different texture, but will still be delicious.
Variations
Spicy – add or reduce the amount of red pepper flakes to adjust the heat to your liking.

Deluxe – right before serving, add some torn apart fresh mozzarella cheese to the pasta to add creamy cheesy richness.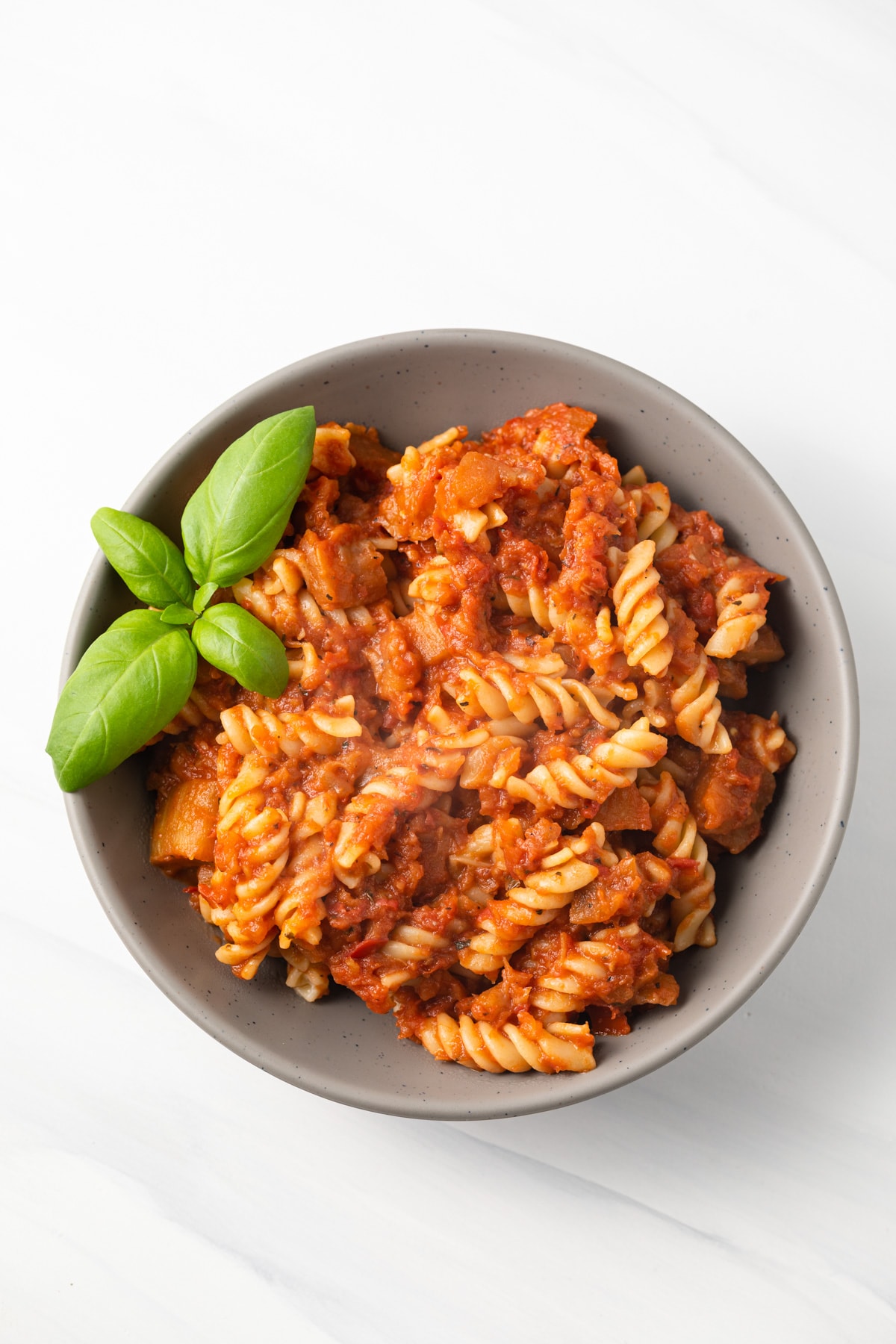 Equipment
This recipe requires no special equipment other than a large skillet, and possibly an immersion blender or regular blender if you would like a smoother texture.
Storage
Allow the sauce to cool for about an hour before transferring it to an airtight container. it will keep in the refrigerator for about 4 days, or in the freezer for 3 months.