Homemade Sloppy Joe Sauce
This post may contain affiliate links. Read the full disclosure here.
This homemade Sloppy Joe Sauce comes together in just 20 minutes! It's so full of flavor, the entire family will be requesting it for dinner.
You'll be surprised at how tasty homemade sloppy joes can be! This easy recipe is one that can be made ahead and it's freezer friendly.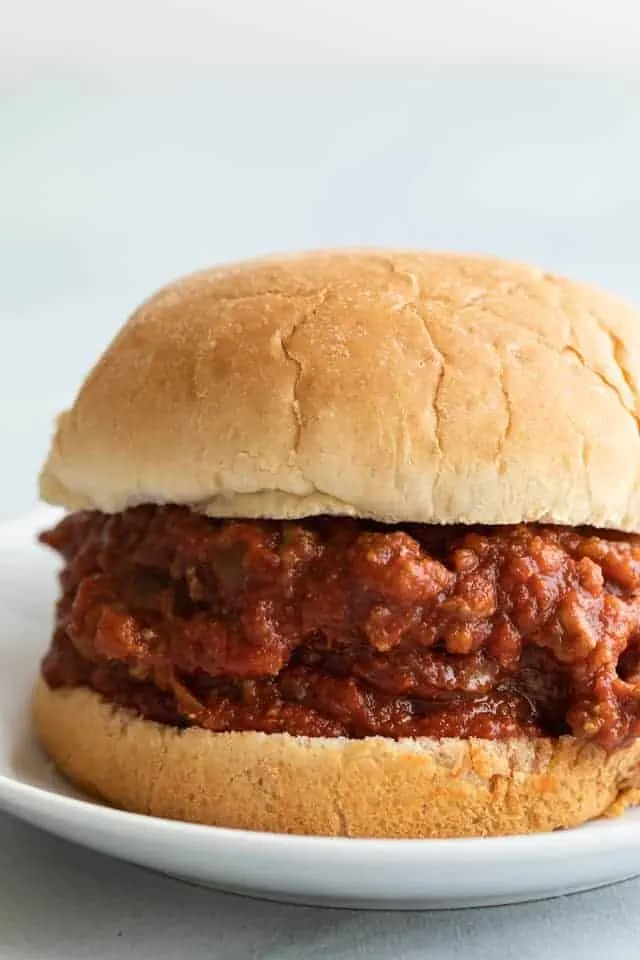 Sloppy Joe Sauce
Sloppy Joe's are childhood favorite. We remember eating them with the cans of Manwich sauce. It was something we always looked forward to as kids.
Today's sauce is a homemade version and it comes together in just a few minutes time with some staple ingredients from the pantry.
The sauce is hearty and can be served on a bun. Add a side salad and you have a complete meal.
It's one of our favorite tomato-based sauces along with our easy spaghetti sauce, best pizza sauce, and butter chicken sauce.
The great thing about this recipe is it can be made in advance and stored in the refrigerator or freezer. We like to wait to add the meat until it's ready to be served but you can make it ahead of time with the meat included.
If you are vegetarian, soy crumbles are a good alternative to ground beef. We usually divide the sauce in half and use ground beef in one half and soy crumbles in the other.
The sauce is already very flavorful, we tested it was just right, but we'll leave some additions and variations down below in case you feel the need to jazz it up.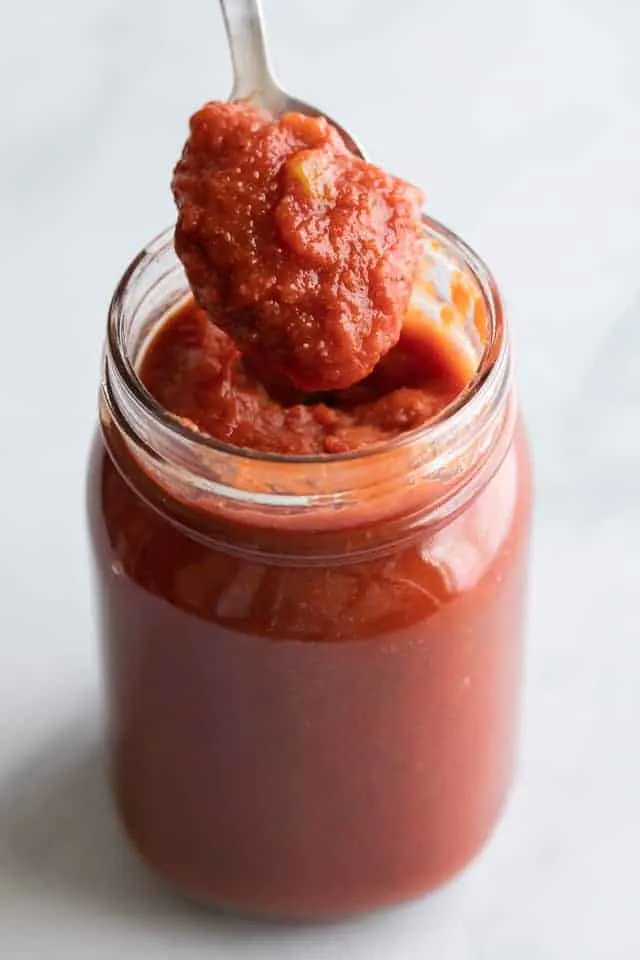 Sloppy Joe Sauce Recipe Ingredients:
To make this sloppy joe sauce recipe, you will need:
Spices: We use a combination of salt, onion powder, garlic powder, chili powder, sugar, and black pepper.
Bell pepper: We love adding them when we can but you can totally omit them if you don't like them.
Tomato puree: The base of the sauce.
Beef broth: Use vegetable broth if you are vegetarian.
White vinegar: Needed for the classic sloppy joe flavor.
Worcestershire sauce: We felt like something was missing so we added a couple of tablespoons. Perfection!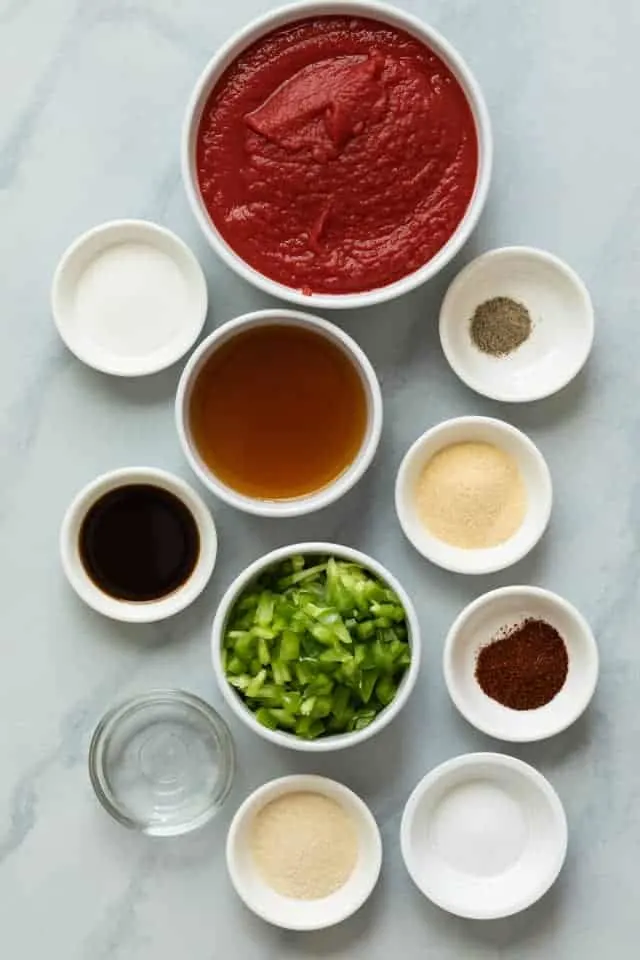 How to Make Homemade Sloppy Joe Sauce:
To make this easy sloppy joe sauce, simply…
Cook the bell pepper and salt until softened.
Stir in the spices and cook for a few seconds.
Add the tomato puree, broth, vinegar, and Worcestershire sauce. Then simmer until the sauce has thickened slightly.
Stir in your choice of ground beef or soy crumbles.
Serve on a bun.
When cooking the sauce, don't reduce it too much. It can become dry once you add the ground beef.
If your sauce feels too thick after adding the meat, you can stir in a few tablespoons of broth to thin the sauce out. Leave the sauce on a simmer and gradually add the broth until the sauce is the desired thickness.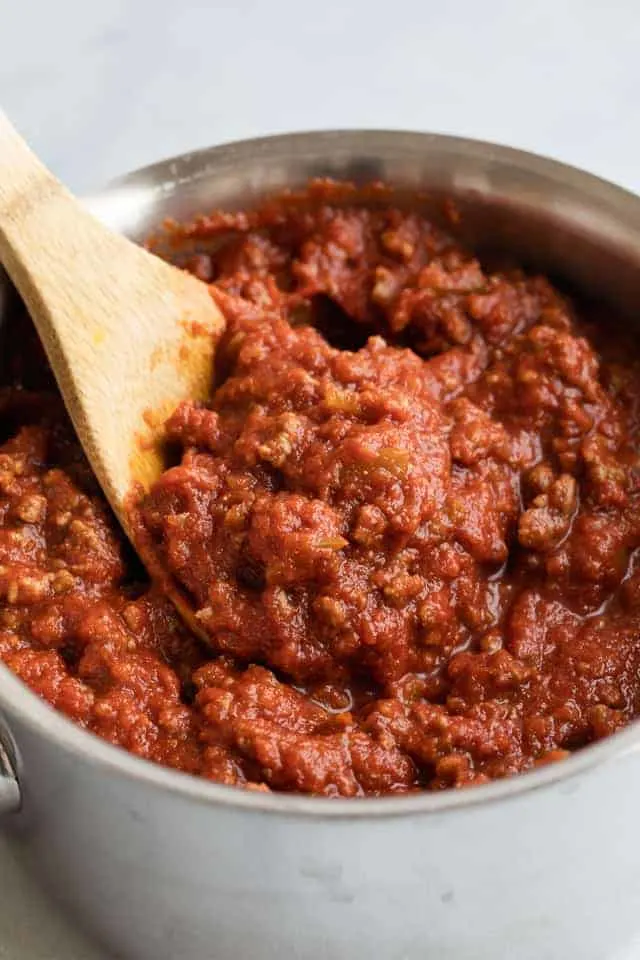 Sloppy Joe Sauce Variations:
There are quite a few ways you can doctor up this sloppy sauce recipe.
Add chopped onion: Cook finely chopped yellow onion with the bell peppers. You may find it best to omit the onion powder when using fresh onion.
Add jalapenos: Remove the seeds and ribs of 1-2 jalapenos then chop them and cook them with the bell pepper.
Add cayenne pepper: This will add a good bit of heat to the sauce. Stir in ¼-½ teaspoon when you add the black pepper.
Add yellow mustard: Stir in 2-3 teaspoons of yellow mustard when you add the tomato puree.
How to Store Sloppy Joe Sauce:
Refrigerate – Allow the sauce to cool for about 1 hour then transfer it to an airtight container and refrigerate for up to 4 days.
Freeze – Allow the sauce to cool for about 2 hours then transfer it to a freezer-safe container and freeze for up to 3 months. Thaw overnight in the refrigerator. Reheat before serving.
Dinner Sauces
If you enjoyed this sauce and want more ideas for dinner, these are great: