This post may contain affiliate links. Read the full disclosure here.
This easy Indian mint sauce recipe makes a delicious yogurt mint sauce with a beautiful green color in under 5 minutes. You'll love this bright and simple blender recipe that will keep for quick meals throughout the week.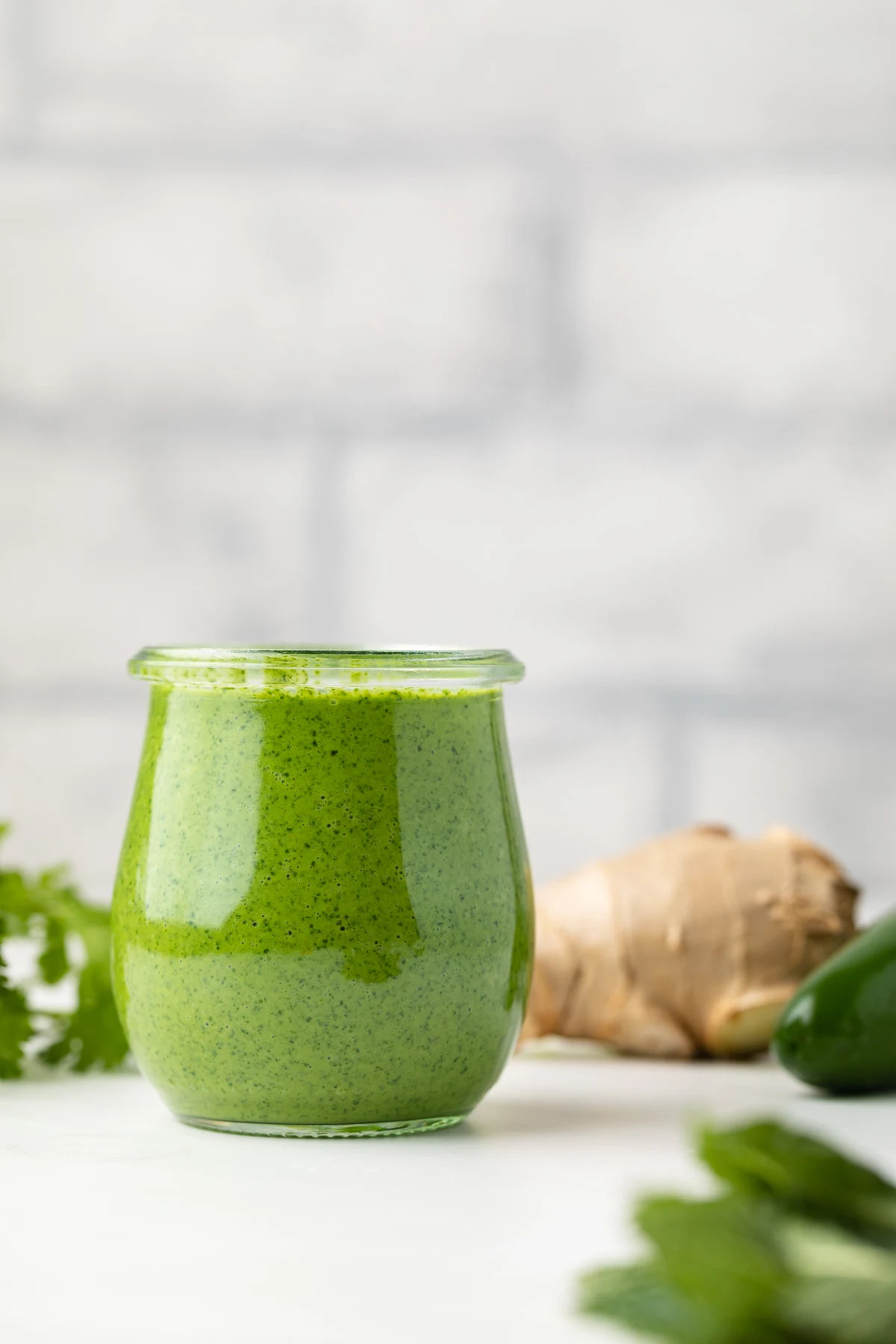 Looking for a cilantro mint chutney that will transport you to your favorite Indian restaurant? This Indian mint sauce recipe uses fresh mint leaves, jalapeno peppers, and cilantro leaves for its vibrant green color. Yogurt, lemon juice, ginger, and garlic add additional punch.
This mint sauce is a delicious dipping sauce for just about anything. You can also use it as a marinade for grilled chicken, mix it in with rice, or drizzle it over your favorite kabobs. The combination of cilantro, mint, and green chilis will add brightness to any meal.
Serve warm naan with this dipping sauce as a great accompaniment to chicken simmered in this butter chicken sauce and curry.
Ingredients
This Indian mint sauce recipe uses simple ingredients to create a restaurant-quality dipping sauce.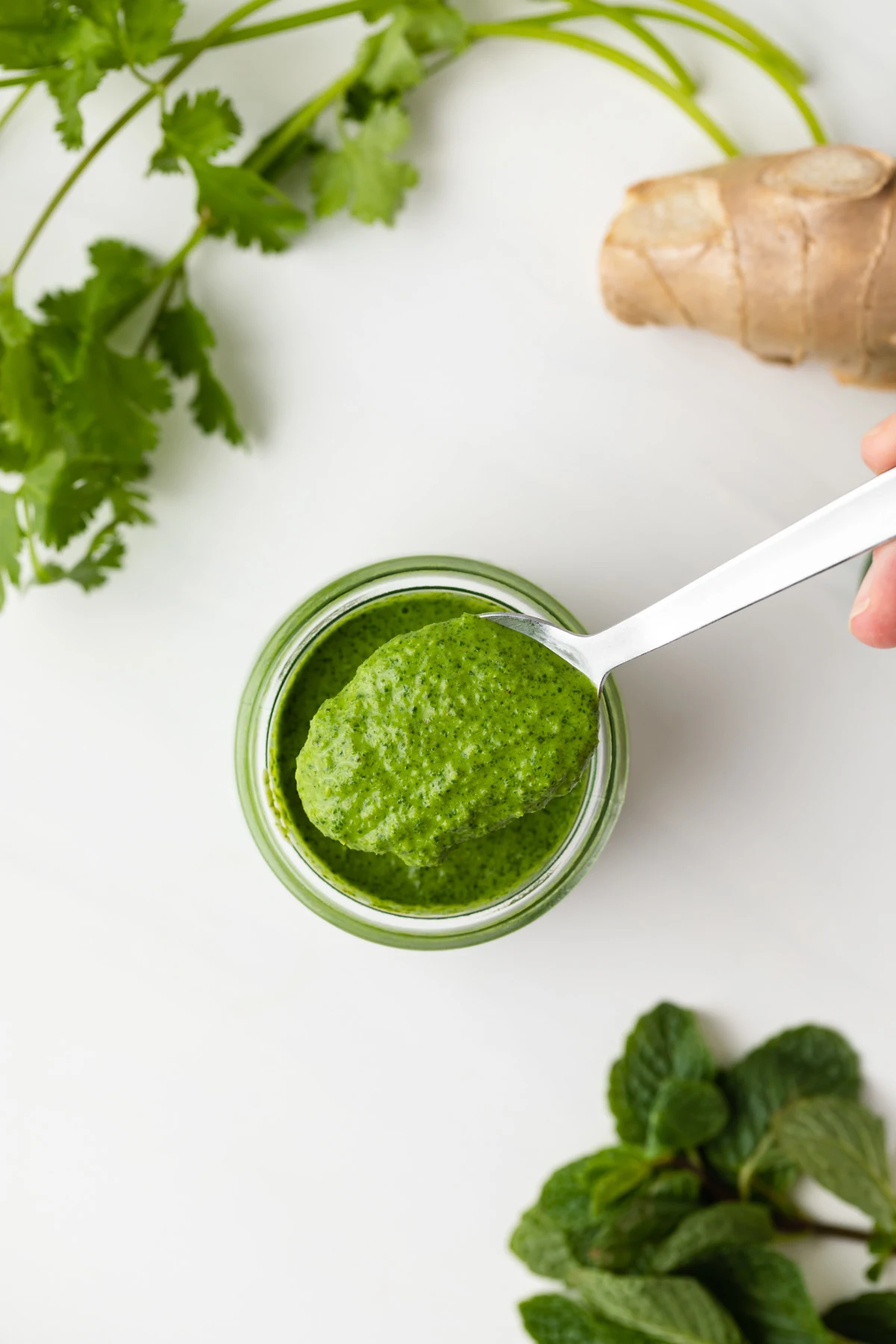 Full fat yogurt: Makes the sauce smooth and creamy.
Fresh Lemon Juice: Lemon juice adds brightness.
Chopped Cilantro: For bright green color and the unmistakable cilantro flavor.
Fresh Mint Leaves: Adds cool, minty flavor and bright color.
Jalapeno: For a little heat.
Ginger: Peeled, fresh ginger adds a little spiciness and a zing.
Garlic: For depth.
Instructions
This sauce is so easy to make. All you need are a few ingredients, 5 minutes, and a blender or a food processor.
Blend the ingredients, scraping down sides if necessary.
Serve immediately or chill in the refrigerator for up to a week.
Substitutions
If you don't like cilantro, try parsley instead. It won't have the same intensity of flavor, but it will still have minty freshness and will taste great.
Fresh herbs are important here – do not substitute for dried mint or cilantro.
Do not use dried, ground ginger in this recipe. While fresh ginger root is always better, you can use refrigerated or frozen crushed ginger cubes.
Variations
Like most sauces, this Indian Mint Sauce can be modified to your personal taste.
Want it spicier? Add another jalapeno. Less spicy? Omit the jalapeno altogether or seed the pepper before adding it to the blender. The seeds are where the heat is in a pepper
Not a garlic fan? The sauce will still work without the garlic.
Equipment
The only equipment needed for this recipe is a blender or a food processor
If you are in the market for a blender, I like this Ninja Bullet from Amazon.
Storage
Indian Mint Sauce can be served immediately or kept in the refrigerator for up to one week.
This sauce won't freeze well.
Tips
Rinse your herbs before adding them to the blender to clean out any residual sand or dirt.
A trick for peeling ginger is to use the backside of a spoon to peel the skin off.