This post may contain affiliate links. Read the full disclosure here.
This homemade tartar sauce is creamy and tangy and so easy to make, you'll never go with store bought again.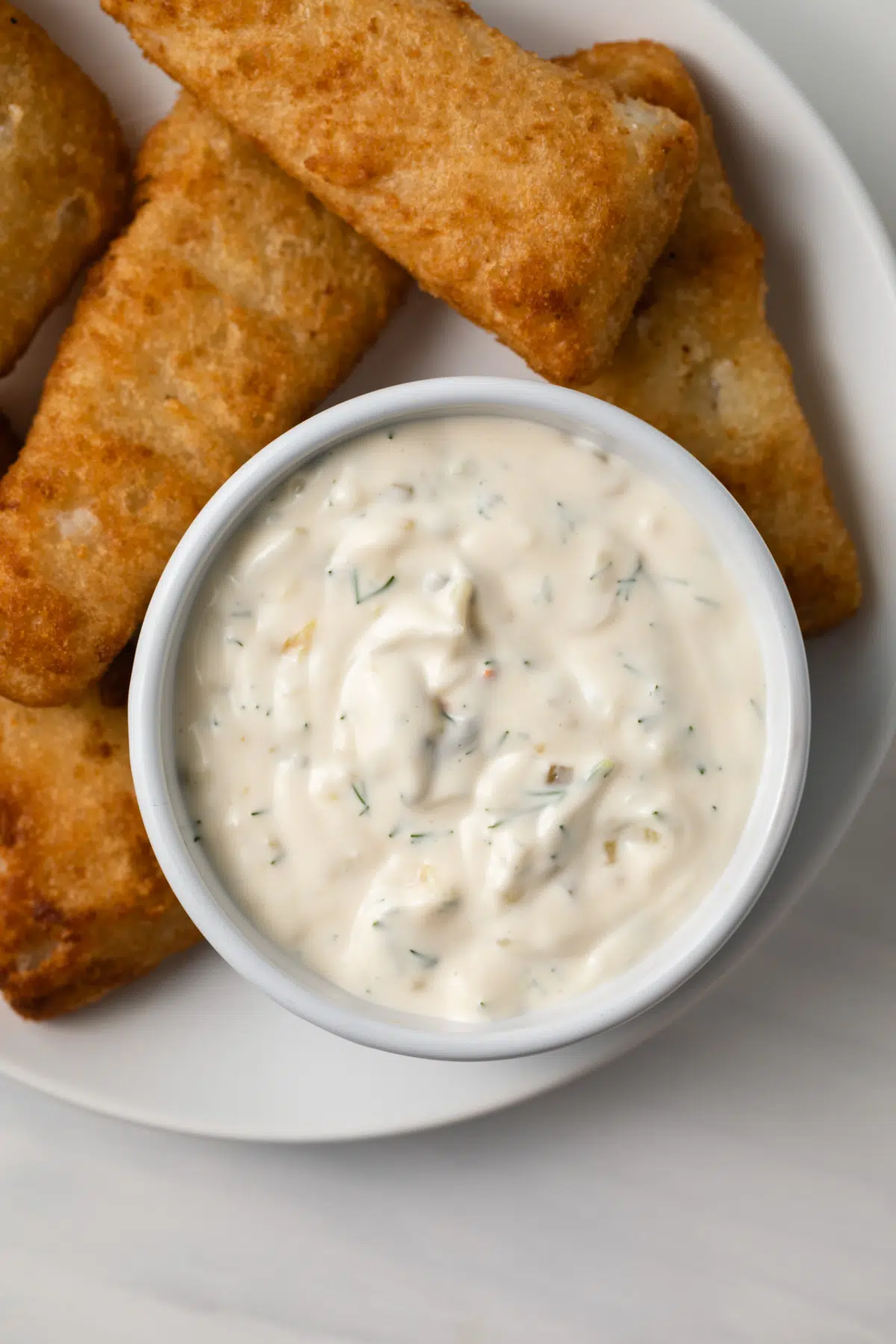 I'll admit – as much as I love sauces, it took me a while to come around to tartar sauce. I suppose I was like most kids – fish was definitely not on my favorite foods list – so I just didn't have tartar sauce that much growing up.
And the first time I had it, it was pre-made, store-bought tartar sauce, which, as you probably know, is nothing remarkable. This sauce is nothing like that. It's tangy, creamy, and has a bright herby zest.
Honestly, I think tartar sauce probably is responsible for introducing many people to seafood. Let's face it, fried seafood is the gateway for the fish-hesitant – most people find fried seafood more approachable than, say, seared tuna. And any fried seafood, with a delicious dollop of tartar sauce… can turn the fish-adverse into a fan.
And I have yet to meet a fried seafood dish that isn't made better by homemade tartar sauce. From fish and chips, to crab cakes, to fried clams, to fish sticks – any of your favorite seafood dishes get a creamy dill pickle-y kick from this tartar sauce.
To be totally honest, I still prefer my fish taco sauce with fish tacos, but on a fish sandwich? A brioche bun, a piece of blackened mahi mahi, a slice of tomato, a slather of this tartar sauce – you'll crave it, I promise.
And if you are looking for a spicy dipping sauce, make sure you try my sriracha mayo too. It'll give a delicious kick to fried shrimp or scallops. Or my remoulade sauce for a tart, spicy and creamy sauce.
But if you want to keep it old school – this homemade tartar sauce recipe is the way to go, all day long. It will change your mind about seafood!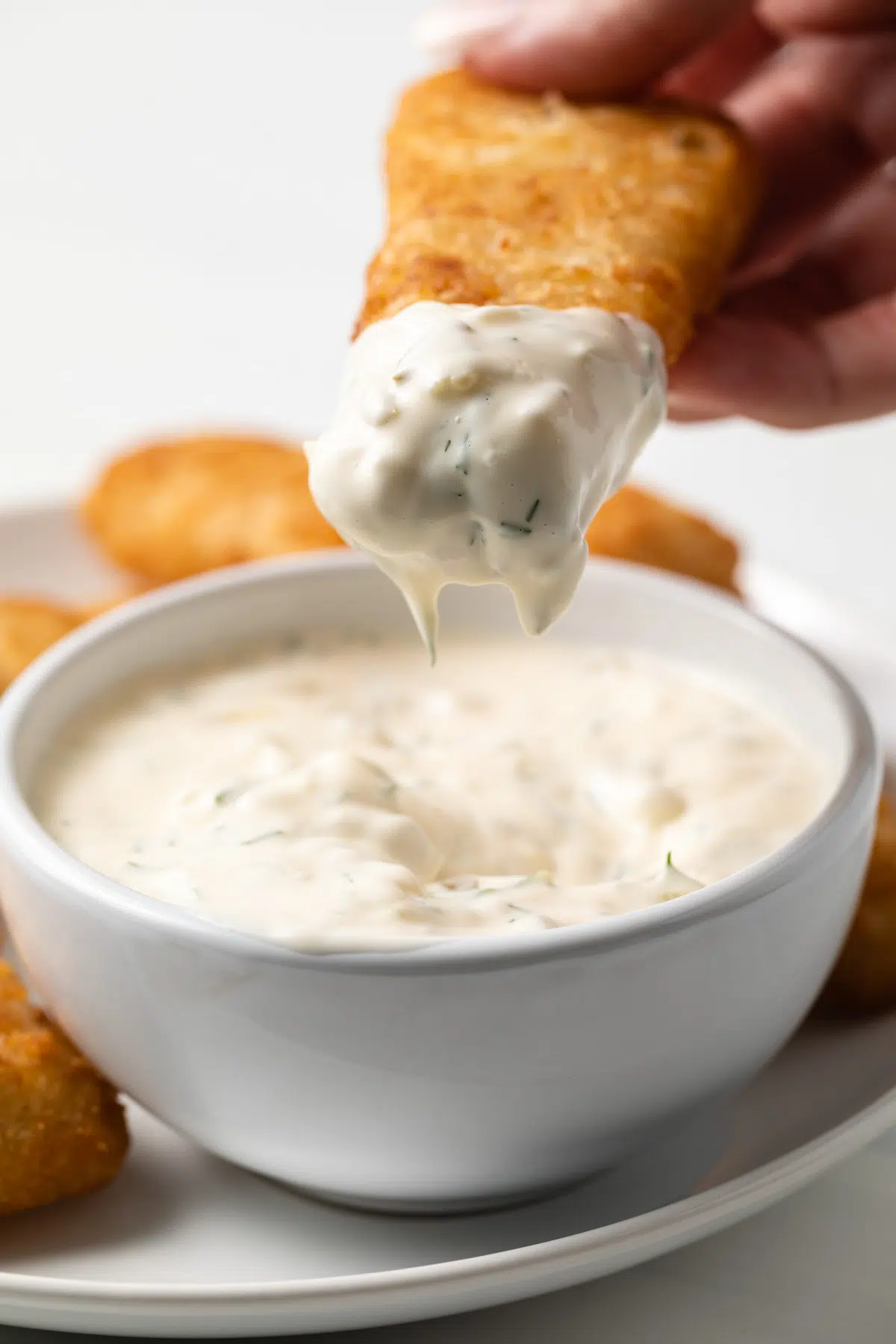 This tartar sauce is made from a handful of ingredients you are likely to already have in your kitchen.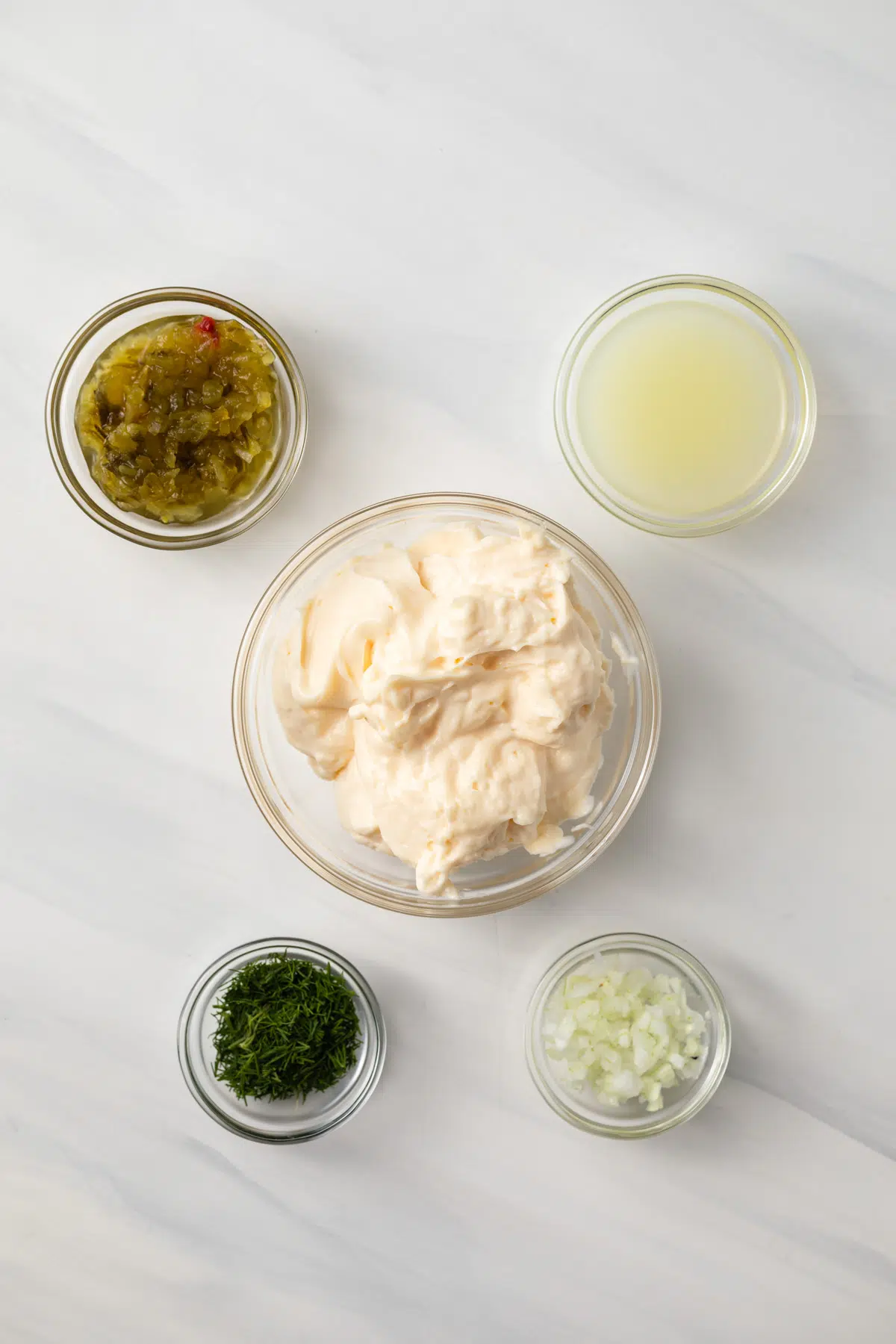 How to Make Tartar Sauce
This recipe comes together in minutes, all you need is a bowl and a whisk. But plan ahead, the flavors blend if the sauce can sit in the fridge for about an hour before serving.
Whisk the mayonnaise, sweet pickle relish, minced onion, minded dill, and lemon juice in a small bowl. Season with salt and pepper to taste.
Refrigerate for at least 1 hour before serving.
Onion – You can use shallots in place of onions, or leave them out.
Dill

– I prefer the flavor of fresh dill with seafood, but you can omit it if it's not your favorite, or substitute with parsley.

Relish – You can use chopped dill pickle (or pickled capers for a more sophisticated touch) if you don't have relish on hand.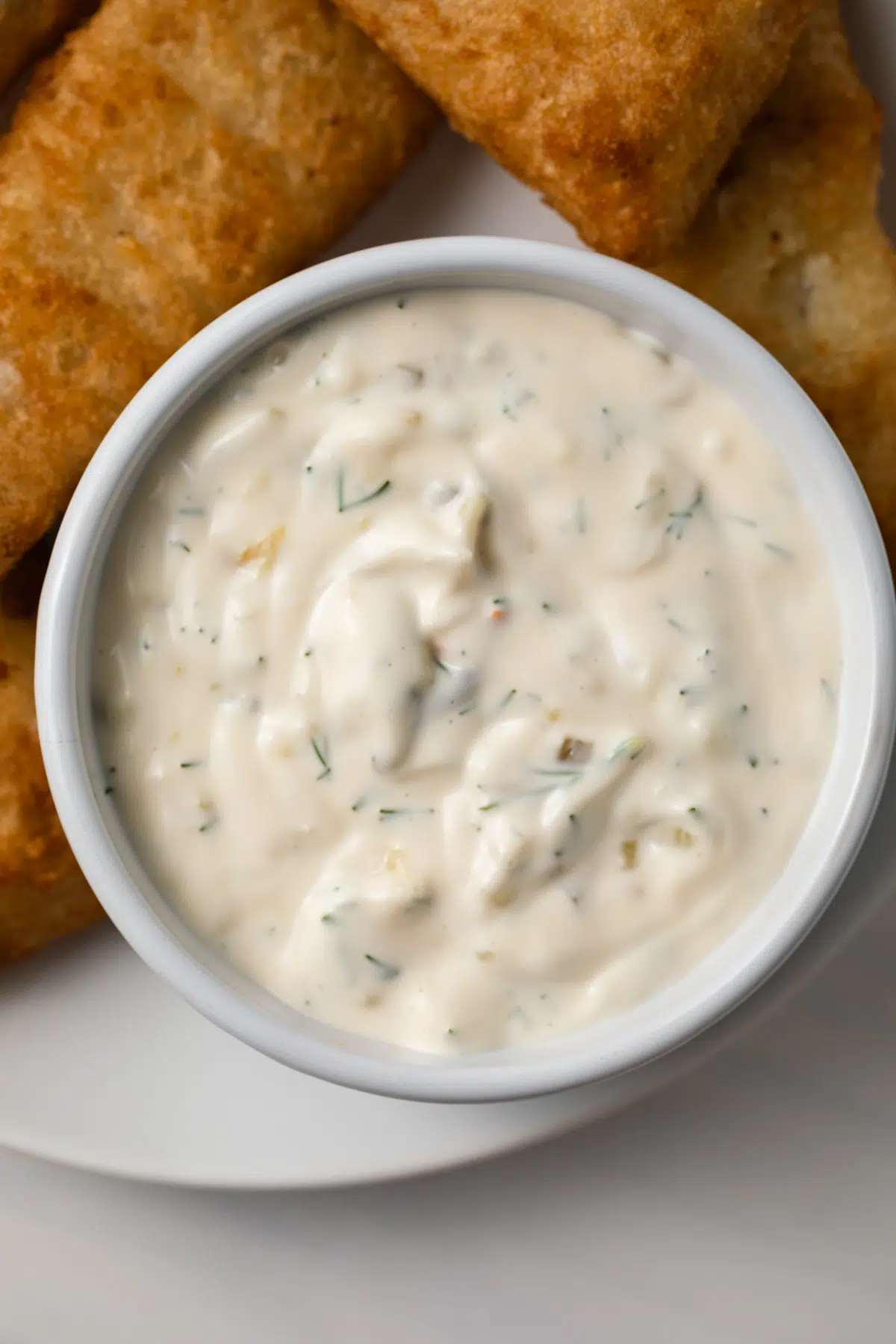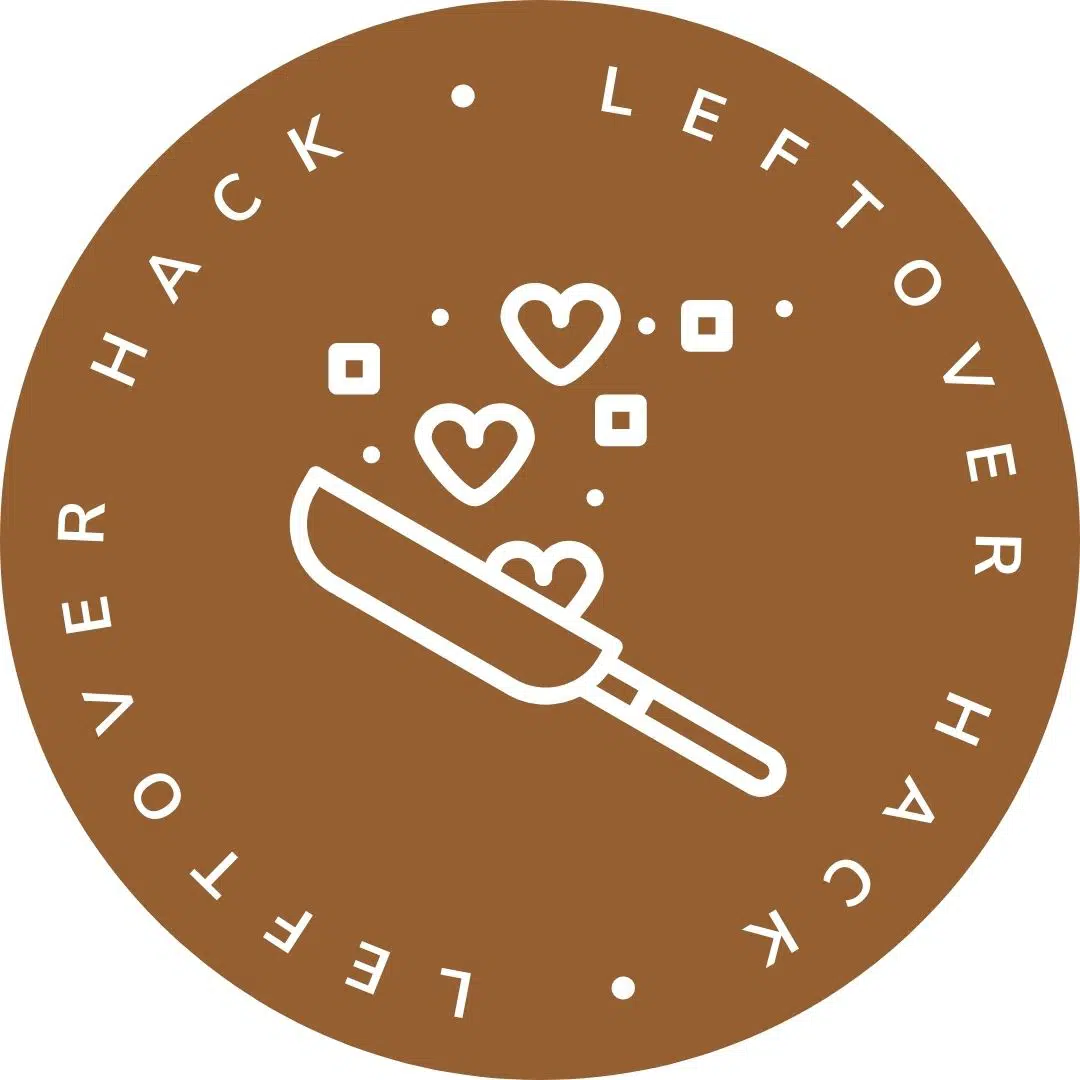 Storage
Tartar sauce will keep for up to 3 days stored in the refrigerator.
Tartar sauce is a quick and easy condiment staple you should have in your repertoire. Here are a few others.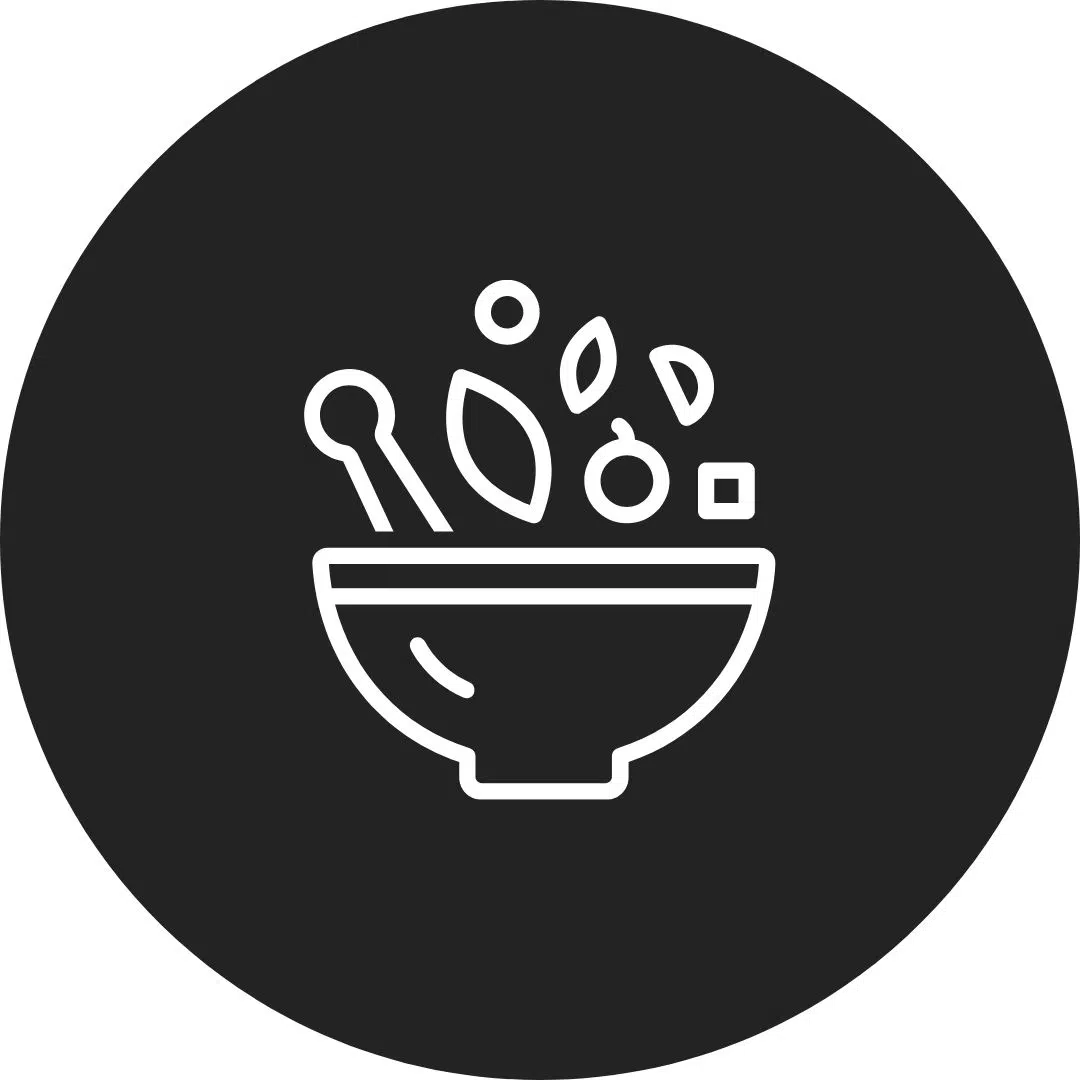 Printable Recipe