Simple Peruvian Green Sauce (Aji Verde)
This post may contain affiliate links. Read the full disclosure here.
Peruvian green sauce (Aji Verde) is a fresh, spicy green condiment from Peru and it's fabulous, drizzled on anything from the grill.
If you are a fan of light, bright, and flavorful sauces, this one is for you! You can adjust the spice level to make it more or less spicy depending on your tolerance.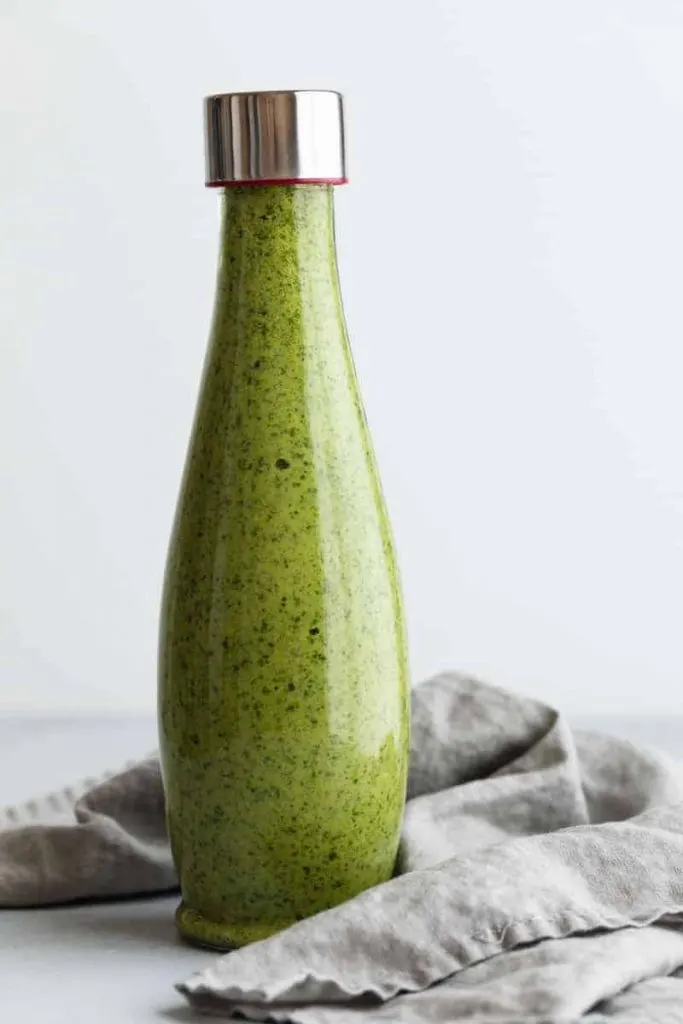 Peruvian Green Sauce
We're obsessed with this sauce! We like to serve it over grilled chicken and rice. It sort of reminds us of a chimichurri type sauce. You can drizzle it over just about anything from veggies, grilled meats, rice, eggs, and more.
If you've been to a Peruvian restaurant, you've probably had some version of this sauce. We've tried many variations and today's recipe is the one we enjoy the most.
If you have a look online, you'll see a ton of recipes that call for cheese. This isn't our favorite way to make it. We skip the cheese altogether and use Romain lettuce, cilantro, garlic, and mayonnaise.
We also like adding both lime juice and vinegar. The vinegar adds a bit of tartness while the lime brightens the sauce.
You can make your sauce mild or spicy simply by using the whole jalapeño or seeding it.
Peruvian green sauce, Aji Verde, is also great as a dipping sauce and can be served as such.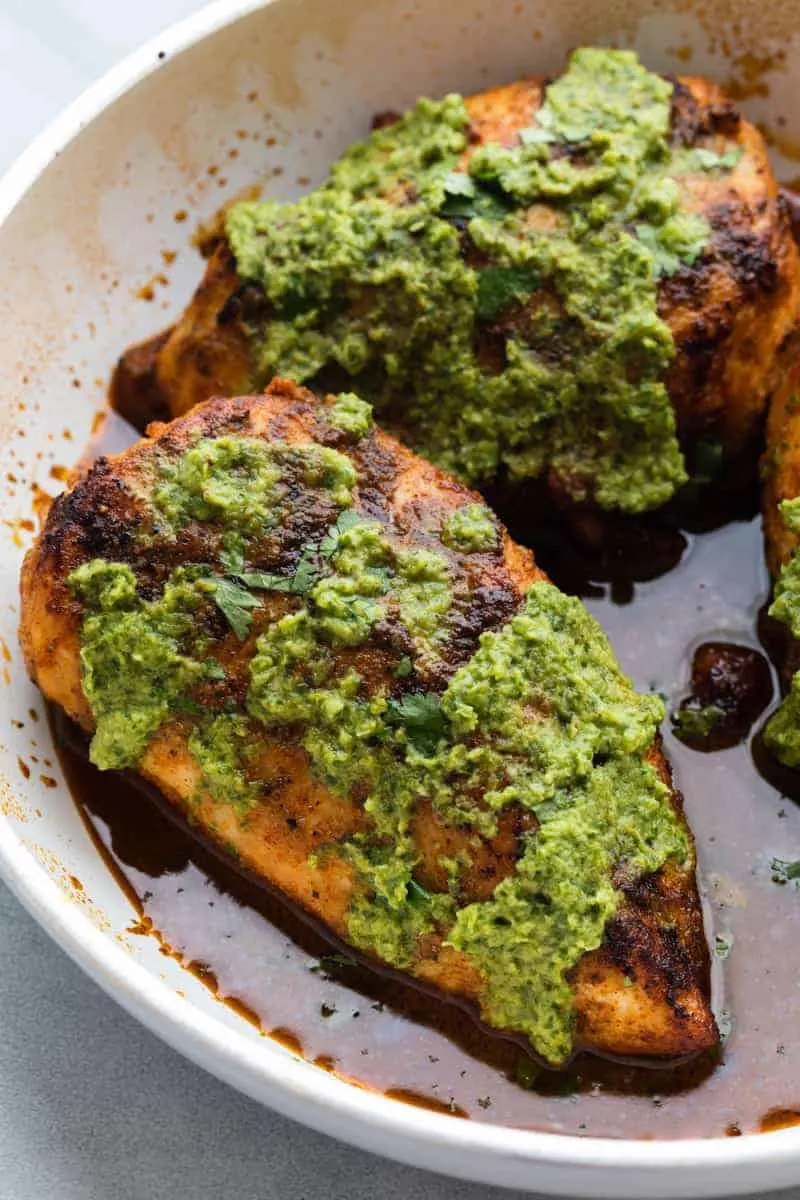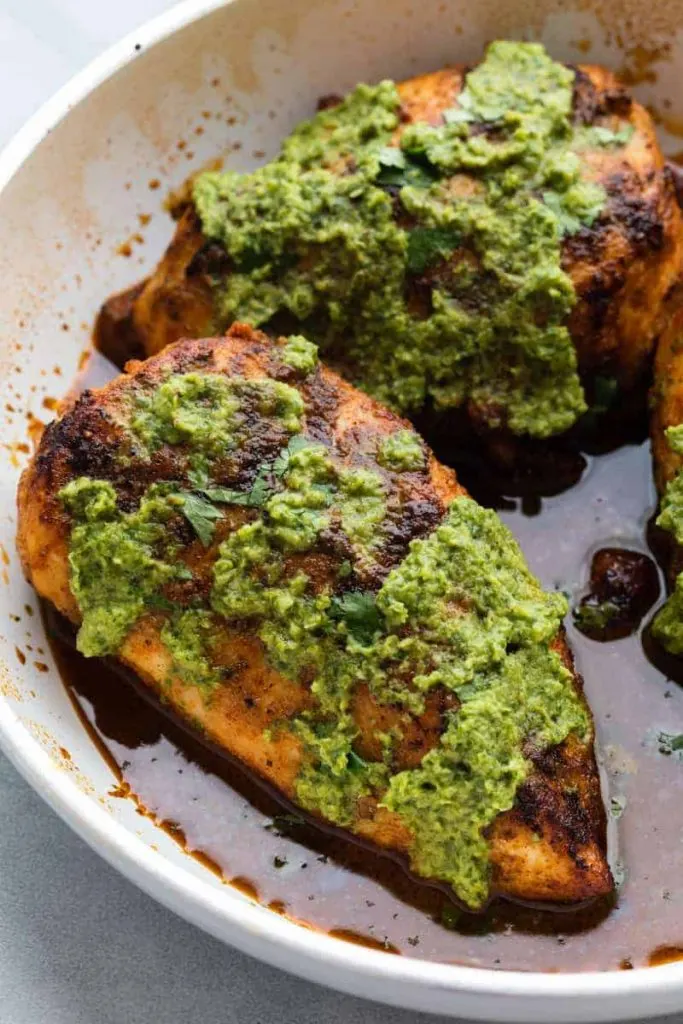 Peruvian Green Sauce Ingredients:
To make this Peruvian Green sauce recipe, you will need:
Romaine lettuce: Add liquid once it is pureed and helps thin out the sauce
Cilantro: The best part of the sauce
Green Onions: They're mild; you can use red onion for stronger flavor
Jalapeño: Use the whole pepper or seed it depending on how spicy you'd like the sauce.
Garlic: Because garlic makes everything taste good
Lime Juice: Use the juice of two limes for the best possible flavor
Vinegar: We enjoy the extra tartness
Mayonnaise: The base of every Aji Verde
Seasoning: Cumin, salt, and pepper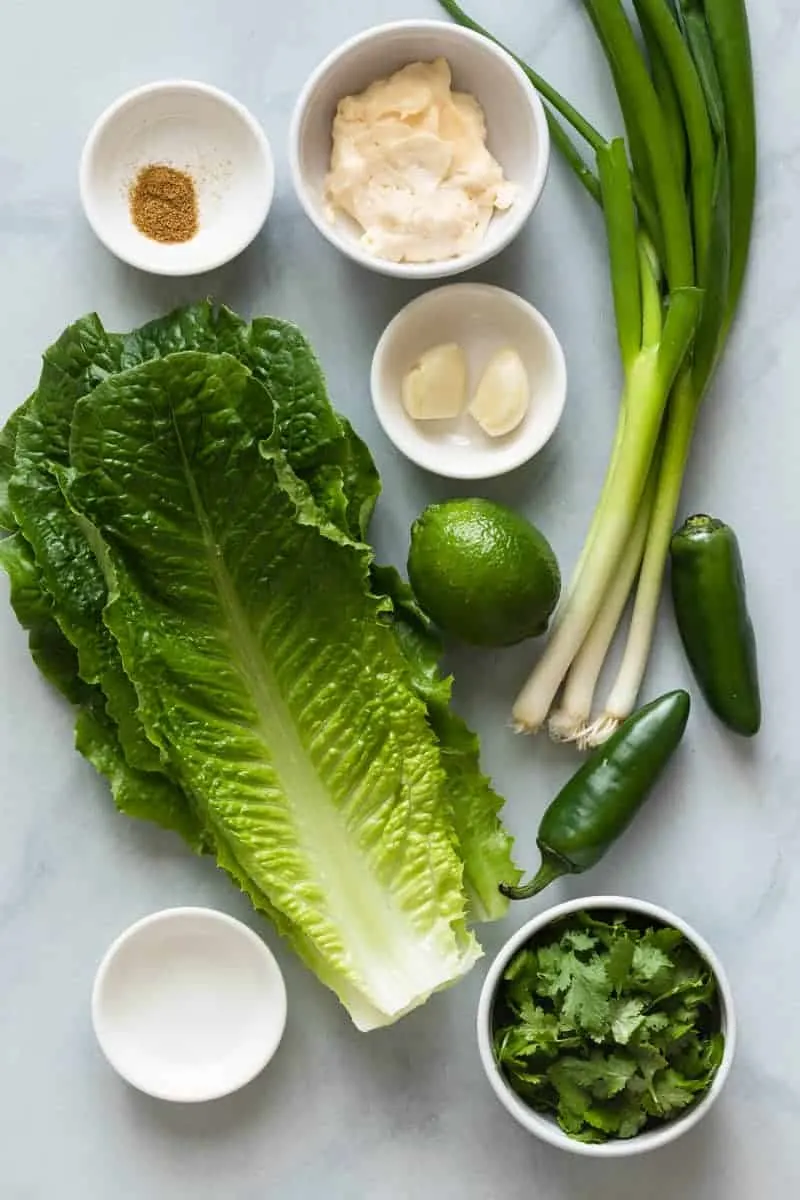 How to Make Peruvian Green Sauce:
To make this Peruvian green sauce recipe, simply…
Place all the ingredients into a blender and puree until smooth. That's it. It's so simple and takes just 5 minutes!
Taste and adjust. Give the sauce a taste, and season with extra vinegar, lime, salt, pepper, or cumin.
Use it right away or refrigerate it for later. Serve it with grilled chicken and vegetables.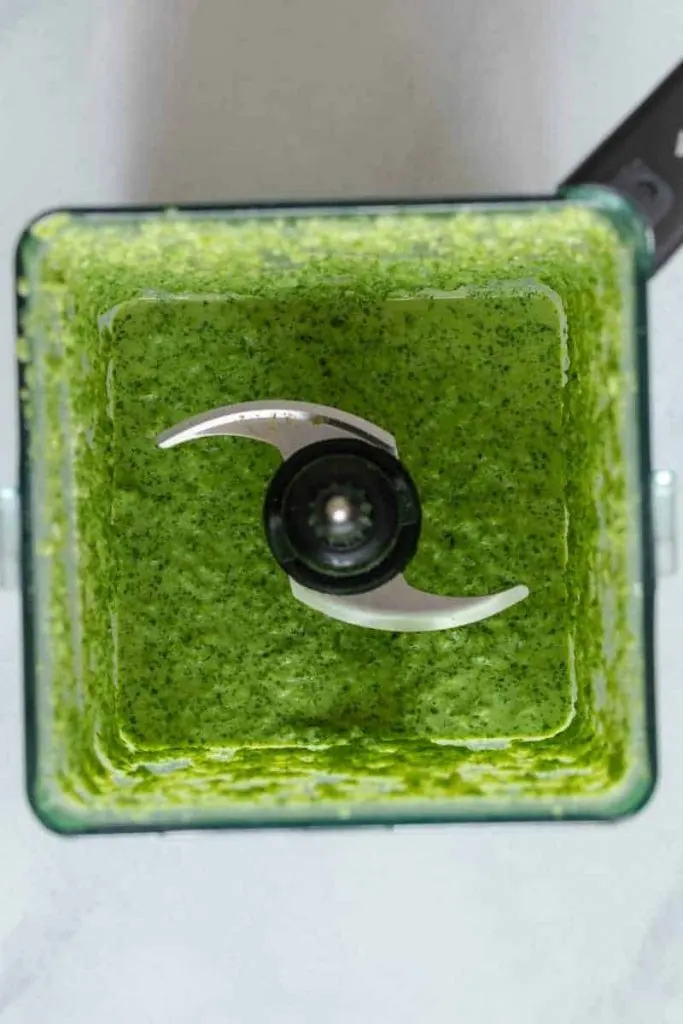 Peruvian Green Sauce Variations:
There are quite a few ways you doctor up this potsticker sauce recipe.
Add grated cotija or parmesan cheese: Toss in 2 tablespoons of cheese and puree.
Add Aji Amarillo paste: Add 1 tablespoon. It can be found at Latin or Mexican markets or on Amazon.
Add honey: Use just a teaspoon or two.
Add fresh basil: Toss in ¼ cup fresh basil and puree.
Add Sriracha sauce: This is for all you Sriracha lovers!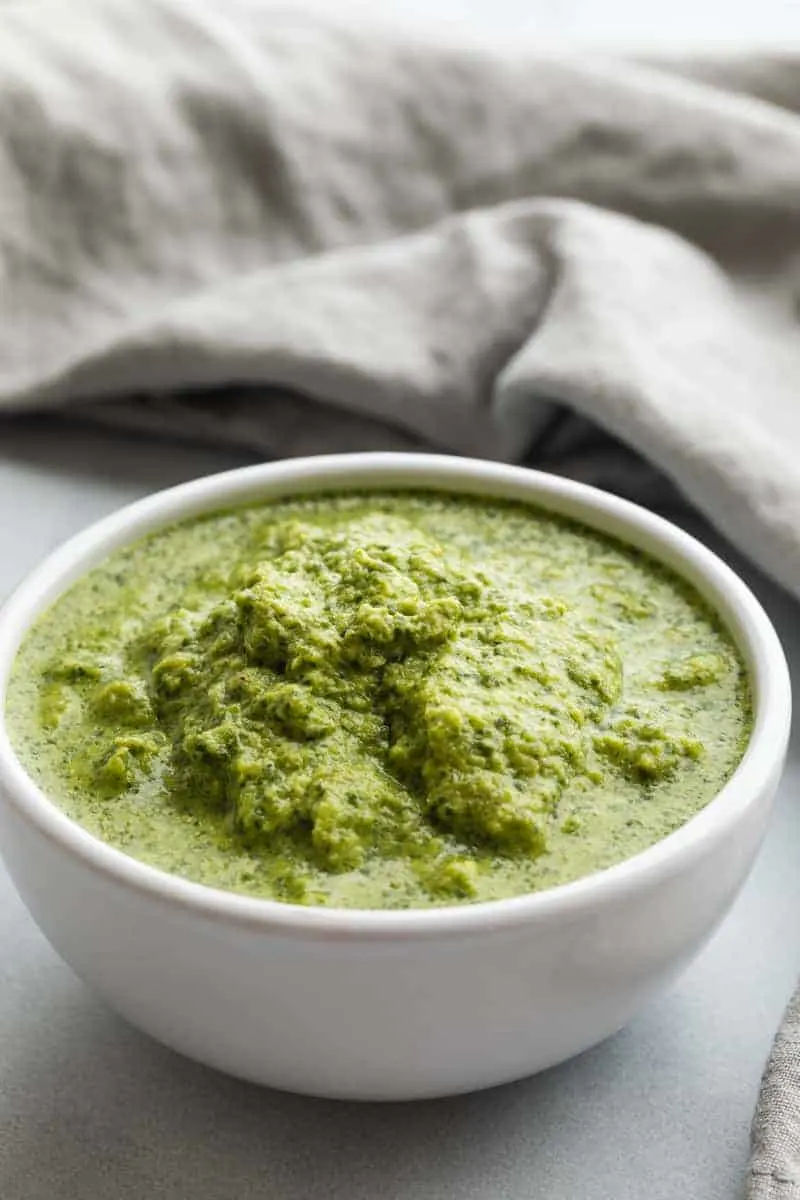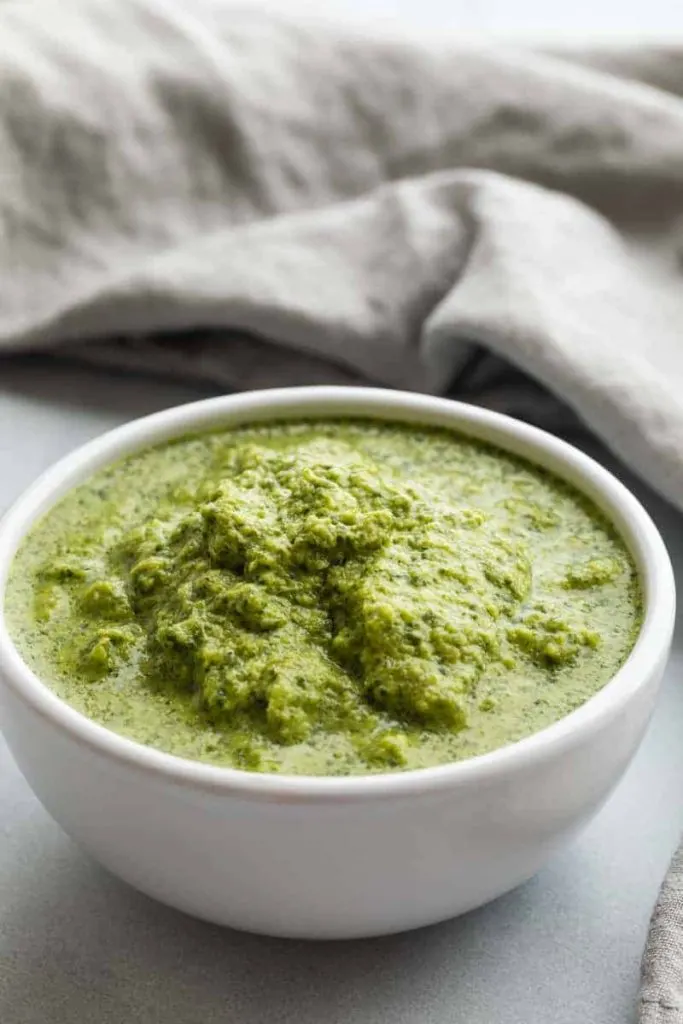 How to Store Peruvian Green Sauce:
Refrigerate – Store sauce in a jar with a tight-fitting lid in the refrigerator for up to 1 week.
Dipping Sauces
When it comes to dipping sauces, we always have something on our plate. Here are a few of our favorites!