This post may contain affiliate links. Read the full disclosure here.
This Korean-inspired Spicy Chicken Marinade recipe is both sweet and spicy. It's full of flavor and perfect for grilling or baking any type of chicken.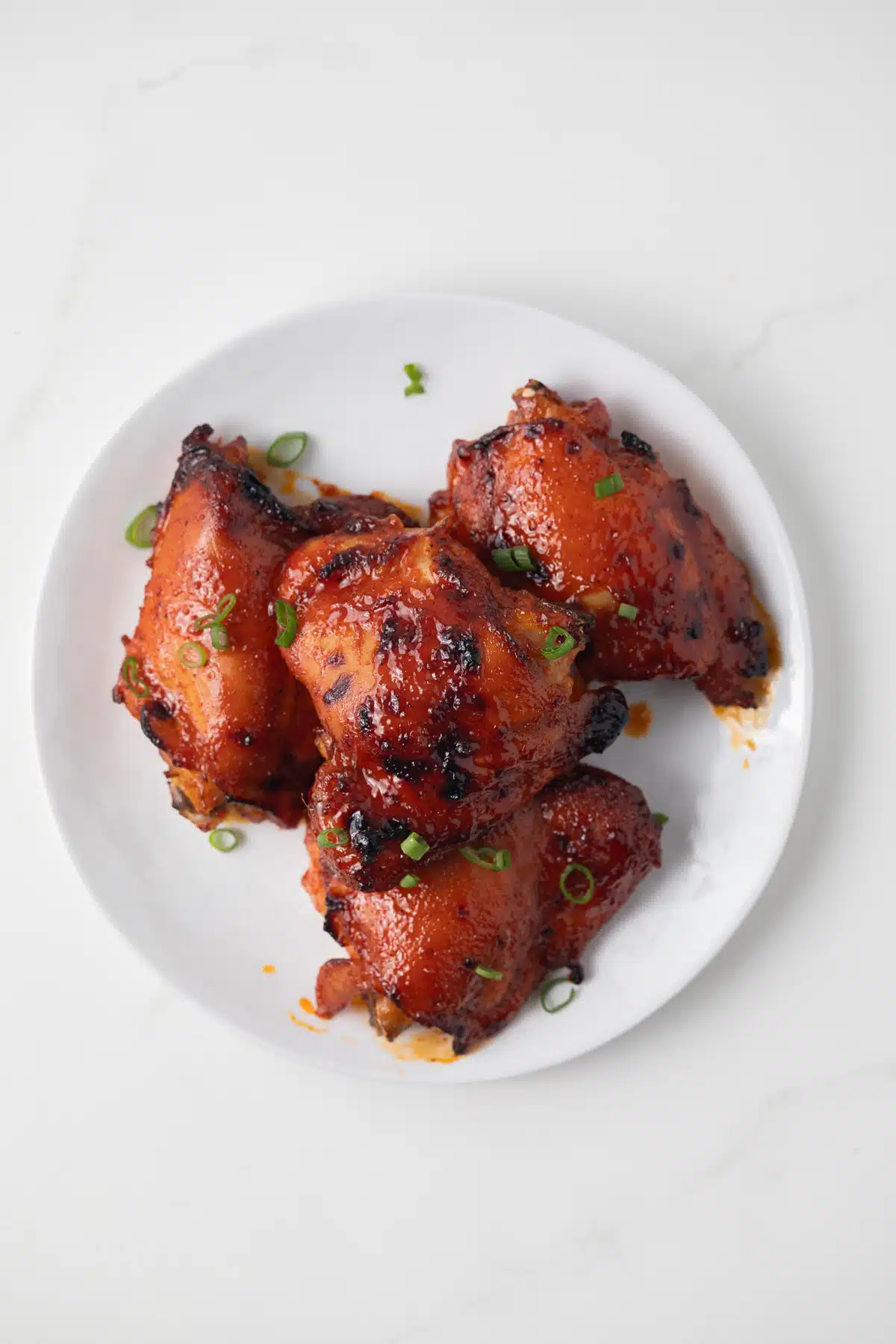 This Korean spicy marinade is a great way to bring Asian flavor to your chicken or pork. It is super versatile and works with all cuts – from chicken thighs to wings to pork chops or tenderloins.
I am sort of obsessed with the flavor profile of Asian sauces. But honestly, who am I kidding? I am sort of obsessed with all sauces.
But try my homemade teriyaki sauce, my creamy peanut sauce, my dim sum dipping sauce, my udon noodle sauce or my sesame chicken sauce and I dare you not to become obsessed with Asian sauces too!
This sauce is the perfect combination of sweet, spicy and salty. The base of it is a red chili sauce, also called gochujang sauce. It's a spicy fermented sauce with a unique but delicious flavor.
Add to it some sugar, soy sauce, sesame oil, garlic, and ginger and wow – is it good!
I like to marinate chicken thighs overnight in this sauce and then cook them on the grill. But other chicken cuts or pork will work too. You could even try it with grilled shrimp!
The meat can be grilled, broiled, or baked. I have even put it in the slow cooker and made spicy Korean tacos. It's super versatile and worth experimenting with to find your favorite method.
Serve over white rice with bok choy or broccolini for a yummy Asian bowl. Maybe even top it with a drizzle of my yum yum sauce? I'm telling you – it's so yummy.
---
Ingredients
This Korean chicken marinade recipe uses ingredients available at most grocery stores. The chili paste (gochujang) will likely be in the Asian foods aisle but you can find it on Amazon too.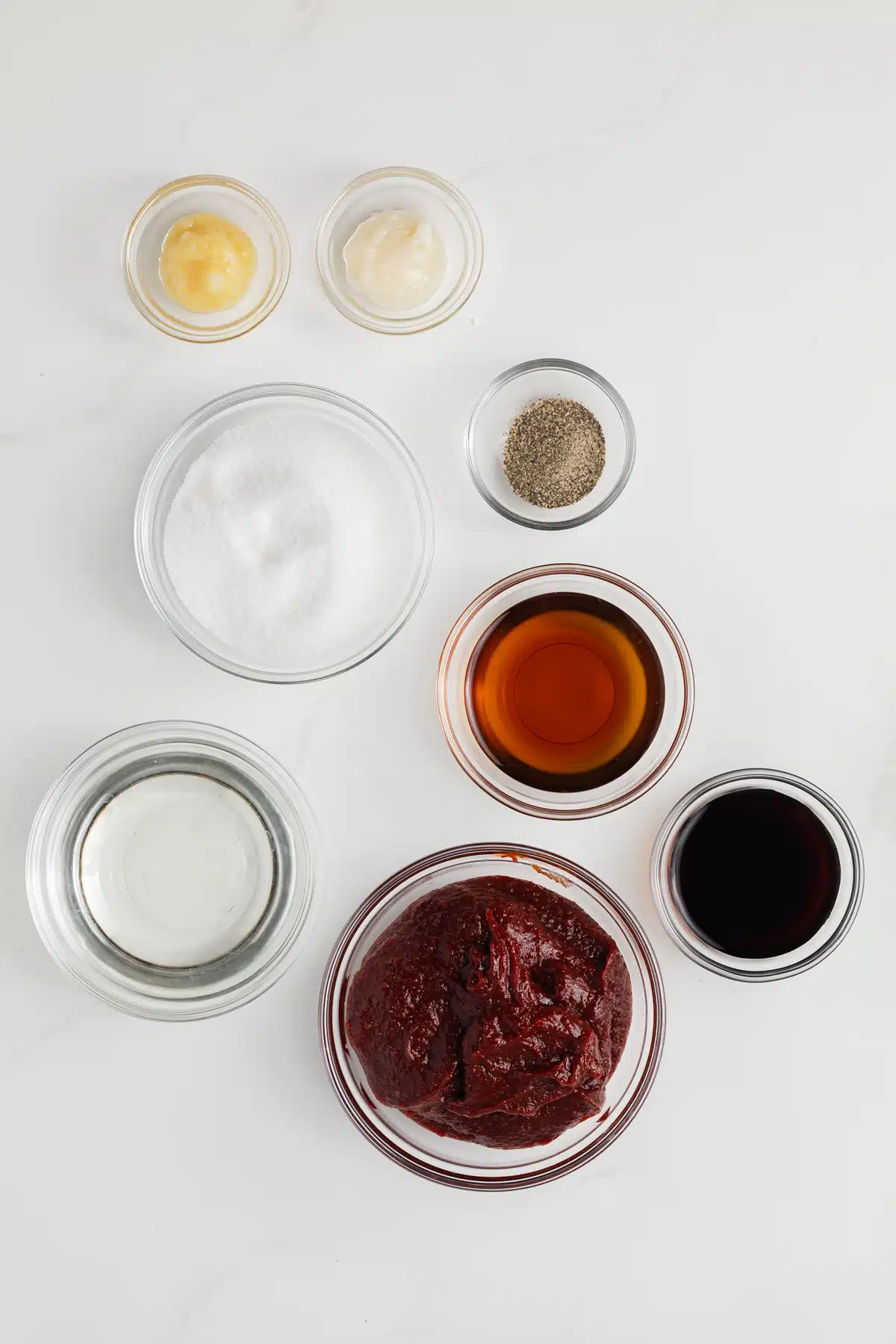 Ginger – One piece of ginger root, minced
Garlic – Fresh garlic clove, minced or pressed
Red chili paste – This is available in the Asian foods aisle of most markets, at Asian markets, or on Amazon. It's also called gochujang.
Light corn syrup – Adds sweetness and thickness to the sauce.
Sugar – I made this with granulated sugar, but brown sugar adds great flavor too. Try both and see which you prefer.
Soy sauce – For salty flavor.
Sesame oil – Don't skip this – it adds great flavor.
Black pepper – For seasoning.
---
How to Make Spicy Chicken Marinade
This marinade comes together quickly and easily. It only needs to be mixed together, but for an even smoother marinade, blend it in a blender, food processor or use an immersion blender.
Be sure to check out the full recipe and ingredient list below
Make the marinade. Combine the ginger, garlic, chili paste, corn syrup, sugar, soy sauce, sesame oil, and black pepper in a small bowl. Stir until well blended.
Marinade the chicken Add 8 chicken breasts, legs, thighs or a combination to a resealable bag or large container with a lid. Pour the marinade over the chicken. Cover and refrigerate for 3 hours or up to 24 hours.
Cook. Cook chicken on the preheated grill until no longer pink in the center and the juices run clear, about 7 to 8 minutes on each side. You may also bake the chicken at 425°F for 30 minutes, until the internal temperature reaches 165 degrees.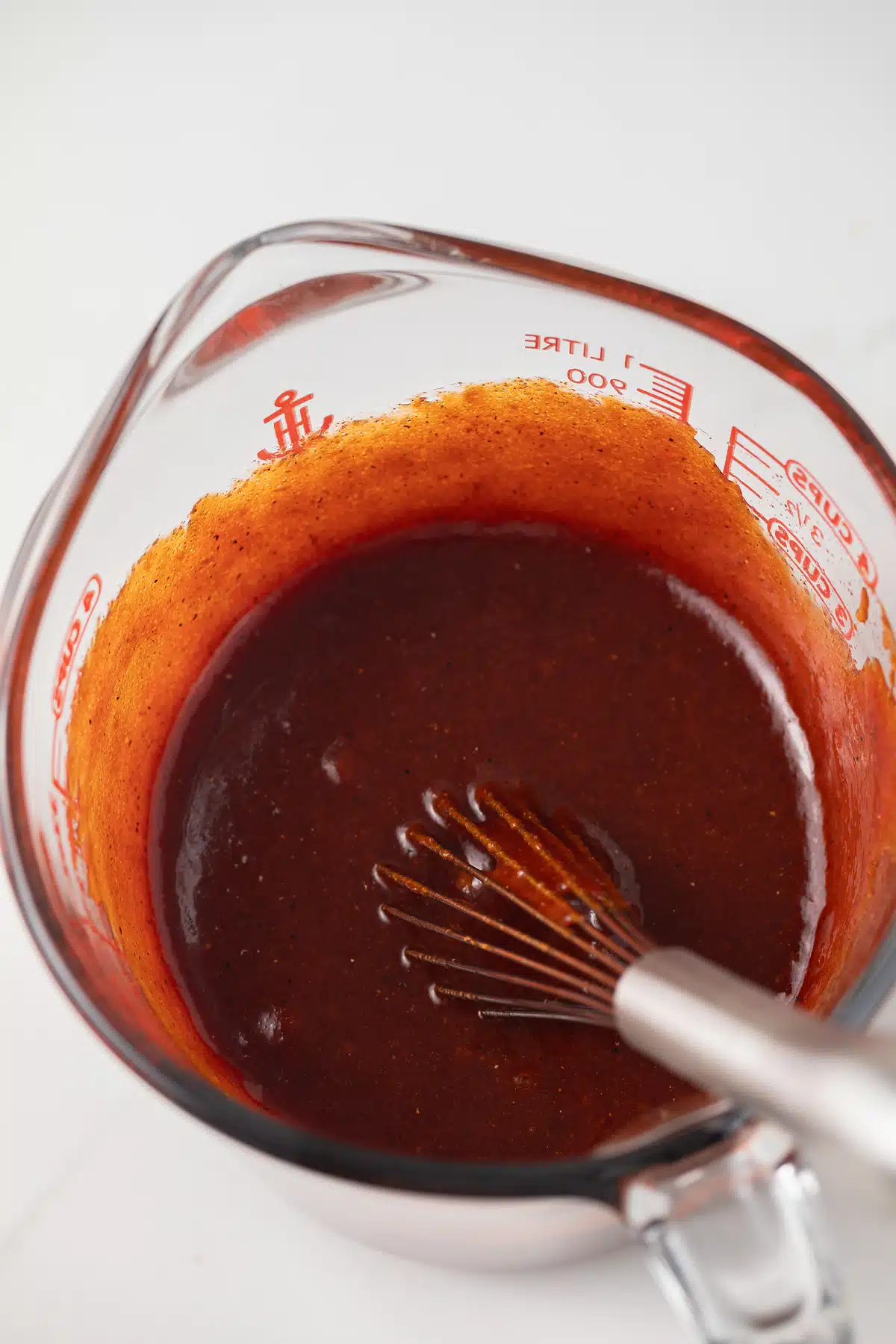 Substitutions
Sugar – Try making this with dark or light brown sugar rather than white sugar.
Soy Sauce – There are so many soy sauce variations – Tamari, Coconut Aminos, Gluten-free… use whatever you prefer.
Ginger – Fresh ginger is best here. Some stores sell frozen cubes of ginger – they are a great substitute for fresh ginger. Dried ginger is not great in sauces. Save that for gingersnaps!
---
Variations
This marinade is great as it is. The spice can be adjusted by modifying the amount of chili paste, or adding hot pepper hot sauce, red chili flakes or cayenne pepper for real heat.
Use any cut of chicken you prefer with this marinade. I like chicken thighs, but chicken breasts and legs work well too.
This Korean spicy marinade also works well with pork. I use a pork shoulder or tenderloin and marinate the pork overnight. I will cook the pork shoulder in a slow cooker for tacos, or grill the tenderloin on the grill. Either way, it's delicious!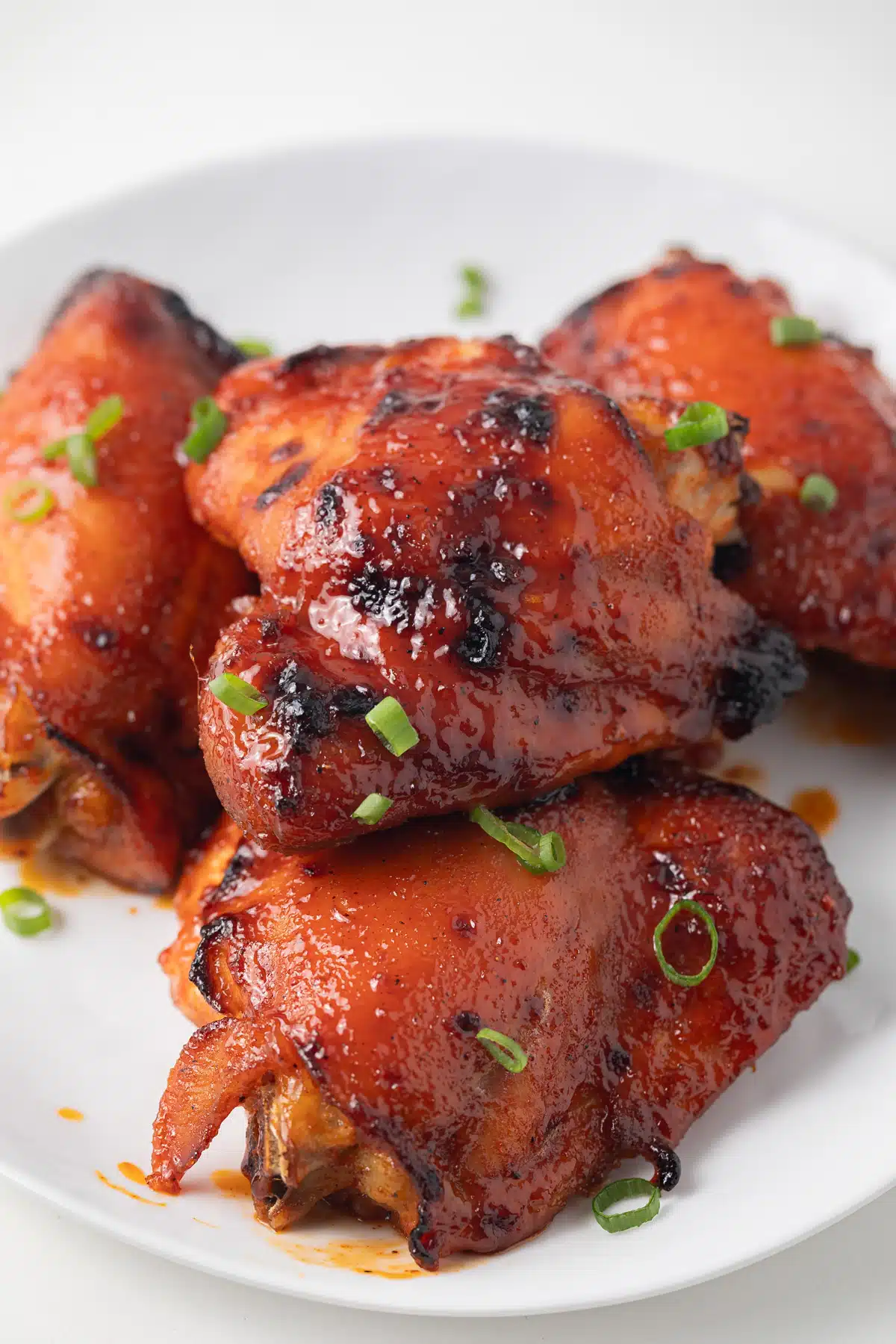 Storage
The sauce can be kept in an airtight container (I like a mason jar) for up to 5 days.
Freeze marinated chicken raw: Add the chicken to a freezer bag, then pour the marinade into the bag. You can store the chicken for up to 6 months in the freezer. To cook the chicken, thaw it in your fridge overnight, then cook according to the recipe directions.
---
Tips
I know people are funny about using marinades as a sauce. I get it. But if you pour the left over marinade into a pan and give it a good boil (I boil for at least 10 minutes to be safe), it will cook off any of the bacteria and you can use it as a sauce.
Chicken is a staple in our house – we eat it a few times a week. Thanks to all these wonderful recipes, it's always different.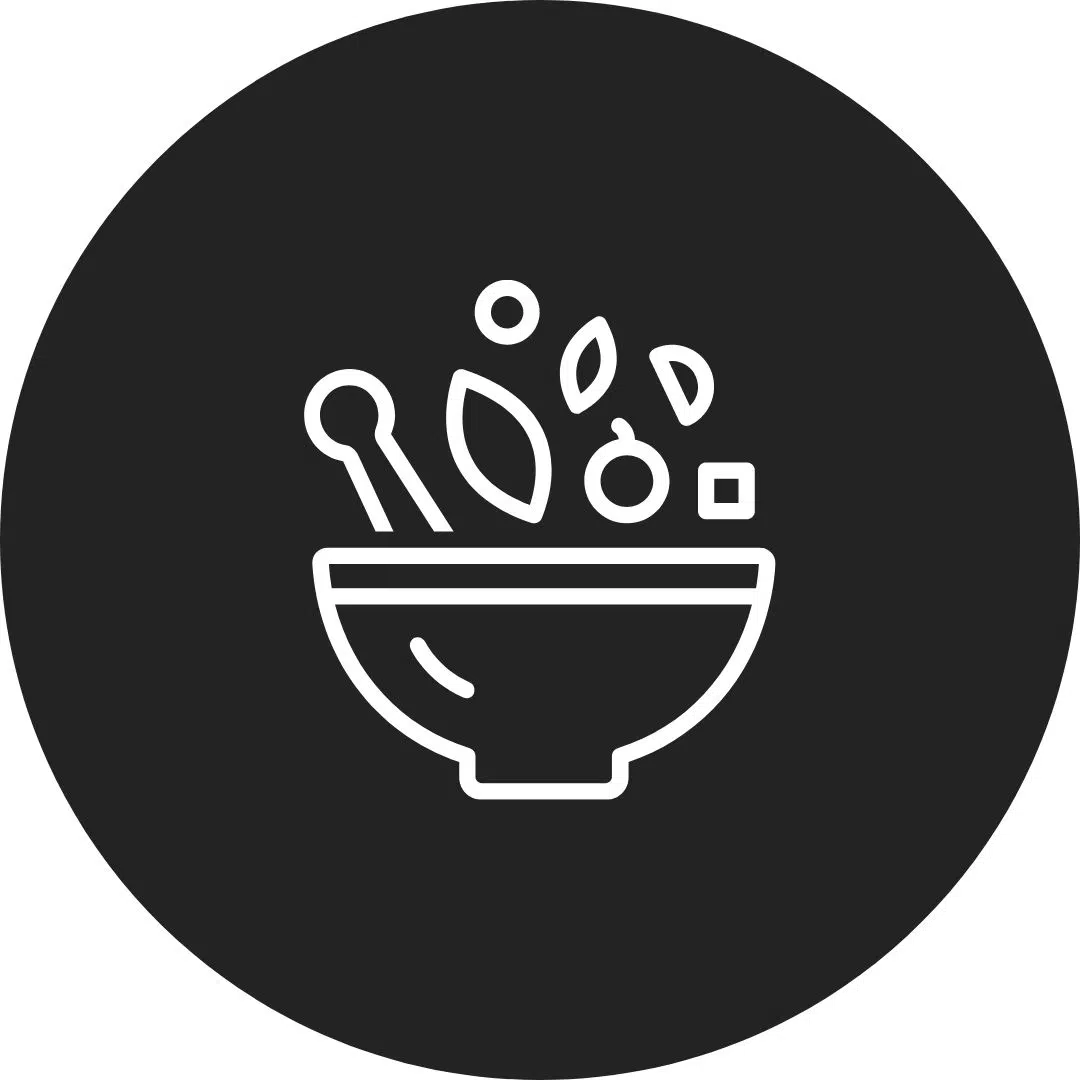 Printable Recipe